Da i yakob chet baam tynre lehkmen ka SURE yaka World Food Day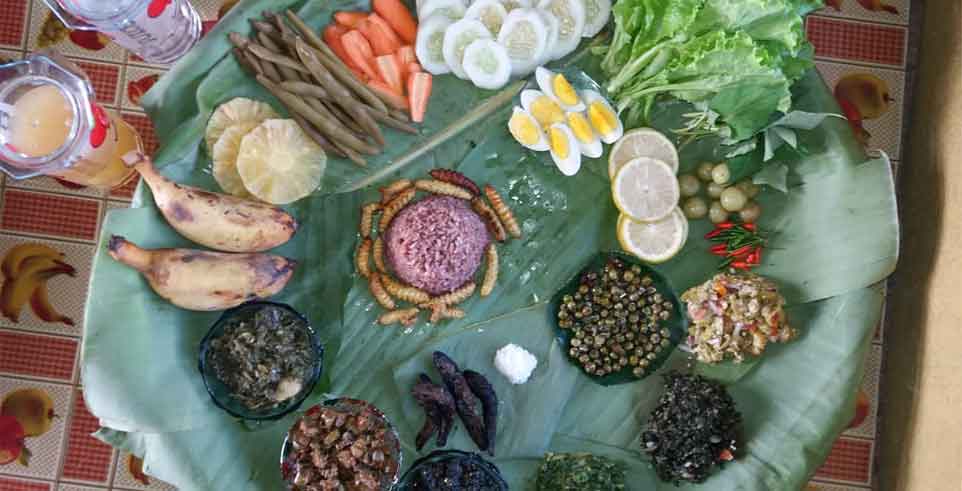 Ka Society for Urban and Rural Empowerment (SURE) deiwa ya krehlang waka North East Slow Food and Agro-biodiversity Society (NESFAS) kam chibynta ka thong wym toh u em kiwa chah ieh chadien namo 'No one shall be left behind initiative project' wa da kyrchaan da ka Rural Electrification Commission (REC), da lehkmen ki yaka World Food Day ynne ka sngi ha chnong Mukhap.
Kam chibynta kani ka lehkamen, da pynman yaka yakob chet baam tynre wa pynman ha Rev. David Edward Unitarian School, Mukhap deiwa chah du kattu katni kiwa chimbynta yow yada naka khlam COVID-19 heiwa da wan wow chimbynta da ki kattu katni ngut kiwa mihkhmat ki Self Help Group kiwa da kyrchaan da ka SURE wa ki kattu katni yong kiwi. 
Advertisement
---
Ha kani ka sngi da pynyoo yaki jait baam tynre wa ha rukom kiwa baam da ki paidbah ka thaaiñ man-ka-sngi. Da em leh ki jait baam wa da pynyoo da kiwa chimbynta kiwa da ki tre chnong leh ym jooh em bha yoh ki wow maad. Ka Newil Papang kawi na kiwa chimbynta da ong ko wa ki baam wa da pynemkaam ko toh kiwa khait na kpær yung, ki khloo, wa na rood wah wa em chajan.
Neiliang ka Daka Bareh, Field Coordinator ka SURE da ong ko na ki baam wa da pynkhreh da em ki palat 8 tylli na ki jait baam wa emkaam heiwa da emkaam du 5 jait yow man ki ki baam kiwa chait wa khiah. Da pyntip leh wa neiliang ka SURE iwi na ki thong wow pynman ya kani ka yakob toh yow ye u pynmih yaka kot chet baam tynre.
Ha kani ka yakob da jop ka Hamjngai waka Ieidasper Niang kiwa chet daka 'Sla Mahek waka Sla Iajaw', yei wa ar da yoh ka Theij Heimon waka Nidaiohlad kiwa chet da i 'Ja-toh' wei ya iwa leh da yoh ka Emlad waka Meristila kiwa chet da ka 'Pachor wa u Salah'.
Ka SURE da lehkmen ko leh ya kani ka sngi ha Thangbuli kawa em hapoh Amlarem Sub-Division wa ha chnong Chamcham kawa em ha Khliehriat Block East Jaiñtia Hills District deiwa pynman yaki Debate, Recitation, i thoh Slogan wa i thoh Essay. Ha kini ki le thaw da yoh ya i yarap na kiwa lai puræ ka Assam Don Bosco University, Guwahati wa na Martin Luther Christian University, Shillong.