Da lehwarom yei dap 50 snem ka skurbah EFL ha Shillong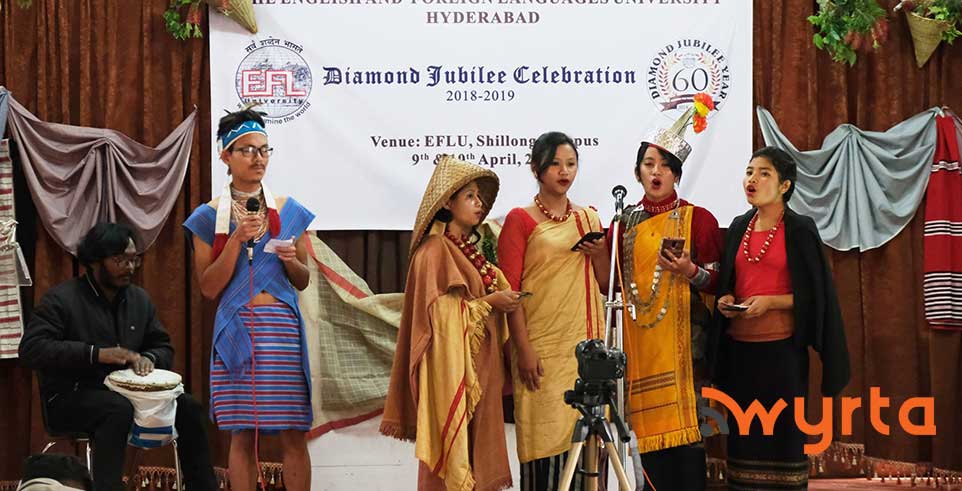 Advertisement
---
Shillong: Ka English and Foreign Languages (EFL) University, Shillong Campus da lehwarom ko yei dap 50 snem yong ka namo ka Diamond Jubilee ha ka 9 wa 10 tarik uni u bnai.
Ya kani ka lehwarom da wan wai da u Director In-charge yong ka Campus, u Prof. A.K. Mishra ha University Multi-Purpose Hall wei da e leh ya ka Academic Lecture na u Director In-charge wa Dr. Ravindra Kumar Vemula, Associate Professor and Head of Journalism and Mass Communication Department wa i thung ya ki tre dieñ da ki khlieh yong ki chnat kani ka skurbah.
Kani ka lehwarom man ko kam chibynta wow kynmoo yei angnood u montri rangbahdooh warim ka ri u Pandit Jawaharlal Nehru wow sdang ya kani ka skurbah wow hikai ya kiwa sikai ha i ktien pharæng.
Ha u 1958 da sdang ya ka Central Institute of English (CIE) wei kat dang lai ki snem da pynkrai pynjanai ya i chakri yong ka hadooh wa da ye wow hikai leh ya kiwi ki kyntien lait na ka English. Da pynkylla pyrtuid ya ka kam ka Central Institute of English and Foreign Languages (CIEFL) ha u 1972 heiwa da hikai ya ki ktien – German, Russian wa French wei wer pa wer da ye u wai ya ka Campus ha Shillong (ha u snem1973) wa Lucknow (ha u 1979) wow e chakri ya ka thaaiñ.
Ha u 1973, ka CIEFL da yoh ko yei kyrdan Deemed University wei ha u 2006-2007, ka CIEFL da man noh ko kam ka Central University deiwa mynjur ya ka aiñ wow seiñ ya ka da ka Parliament wei da pynkylla pyrtuid noh ya ka kam ka English and Foreign Languages University kawa e hikai ya ka ktien English wa chiphaw tylli kiwi ki ktien wa kynthup ya ka Arabic, Chinese, French, German, Spanish, Italian, Russian, Japanese, Korean, wa Persian.
Kani ka skurbah man ko du ka donhi hapoh South Asia kawa e sikai deiwa janai ya kam kini ki ktien.
Ha kani ka lehwarom wa ar sngi da em ki yakob thoh sur-rwai (poetry writing), i thoh parom, dro dur, chondur wa kiwi kiwi.
Da pynkut ya kani ka lehwarom da ki program wa kynthup yei pynyoo rong yong ki jaitbru, ki rwai ki siaw wa kiwi kiwi.
Advertisement