Da sdang ya u bnai yong ka Poshan Maah neibynta ki kynthai wa ki khynnah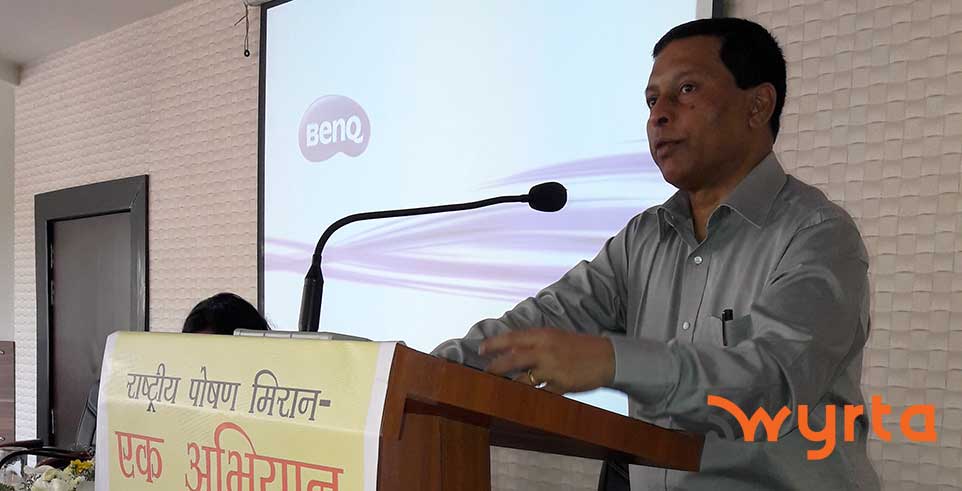 Shillong: U Deputy Commissioner ka East Khasi Hills, u P. S. Dkhar ynne da sdang u ya ka Poshan Maah, kawa man u bnai wow pynbiang baam namo Nutrition Month neibynta ka East Khasi Hills District ha Shillong iwa mut wow pynsñiaw ha waroh ki manyung yeiwa emkaam i baam wa miat wa bha iwa tei yei doh i pran.
U PS Dkhar hawa e i klam da pynksan u yeiwa emkaam wow yakrehlang ki tnat sorkar, ki waheh na ki chnong, wa ki seiñbhalang khang wa u pynkrehkaam ya kani u man i iwa jop. Da kyntu u ya ki paidbah wow rah ya ka wyrta yei myntoi wa yoh hawa baam ya ki baam wa bha wa miat, ka um wa khooid wa i rukom baam wa miat ha jar jiar ki manyung mansem.
Daw em ka campaign waroh chi bnai hajrong ka Poshan Maah, kawa em hapoh ka National Nutrition Mission ya kawa sdang da ka Ministry of Women and Child Development, Government of India wei da mang kyrpang ya ki kynthai wa pun-khon, ki manbei wa ki khynnah.
Hapoh kani da kynthup ya ka e yimbu khon, i stat i tip khamtam ya ki khynnah, i rta wow bia, i leh khooid wa kiwi kiwi.
Neiliang ka Social Welfare Department da pynyoo ko ya ka power-point presentation hajrong ka Rashtriya Poshan Abhiyaan.
Ha kani ka sngi sdang da chim ya ka kular wa yahkhmat da u Deputy Commissioner kawa tip leh kam ka Poshan Pledge.