Da sdang yaka Scheme bai baam tymmen ka Pradhan Mantri Shram Yogi Maandhan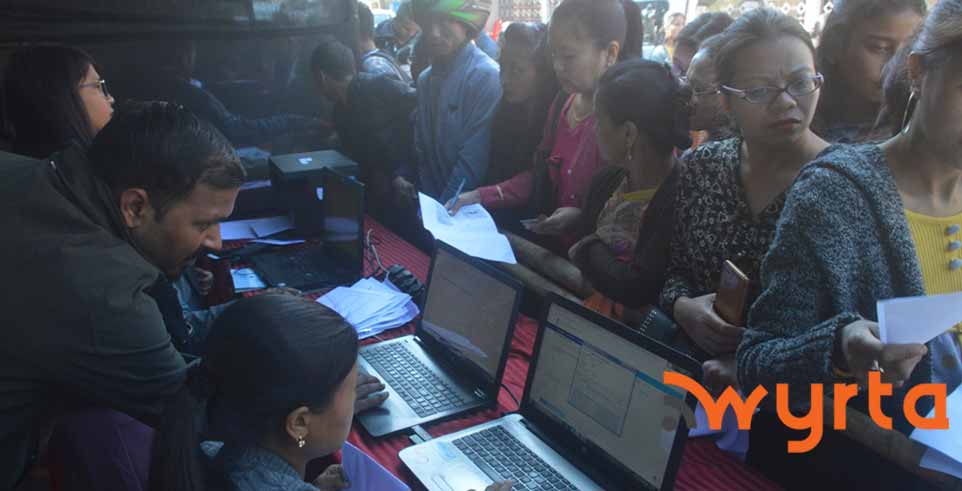 Shillong: Chirup wa ka ri waroh kawi da lehwarom ya ka "Pension Week" ha Shillong, heiwa da wai ya ka da u D.P. Wahlang, Principal Secretary to the Government of Meghalaya, Labour Department.
Ya kani ka lehwarom da pynman da ka chnat Labour Department, chirup wa ka yung krehkaam Deputy Commissioner, East Khasi Hills District heiwa da wan chimbynta da u R. Rapthap, Secretary Labour Department, ka M. War Nongbri, Deputy Commissioner, East Khasi Hills, u B. Mawlong, Labour Commissioner, BDO, ki sahep sorkar wa kiwa khih mylla. 
U Wahlang da pyntip u wa ka Pradhan Mantri Shram Yogi Maandhan, toh ka Scheme sorkar neibynta ki tymmen chadæ wei wow e yarap ya kiwa khih mylla namo ki Unorganized Workers (UW) katwa ka National Pension Scheme ya kiwa khayi (Trader) wa kiwa khih yong ki dahi (Self Employed Person) da pynkrehkaam ya ki da ka sorkar. 
Da ong u wa kini ki Scheme ymtoh kiwa pynbor wei i su man ko katkam wa da booh ka sorkar deiwa kheiñ katkam i rta wei ka sorkar leh u thap ko katkam wa thap kiwa yoh myntoi man ka bnai. U Wahlang da pyntip u wa kiwa mylla, kiwa khayi wa kiwa khih deiyongki dahi kiwa hapyrdi 18 hadooh 40 snem i rta ye ki wow yoh myntoi na kani ka scheme wei i su u man i hapyrdi T.55 hadooh T. 200 chi bnai chong i ha i rta heipor wa sdang u thap poisa hadooh wa kynjoh 60 snem.
Hapoh kini ki Scheme kiwa yoh myntoi u yoh ki ka bai-baam tymmen kawa ym duna ya ka T. 3000 chi bnai hadien wa da kynjoh ki 60 snem wei lada jia wa khlaad, ki kurim wow yoh ya ka Family Pension, u Wahlang da ong u wa kani ka Family Pension u yoh toh du ki kurim kiwa da khlaad. 
Da kyntu u ya waroh wow chim kabu na kini ki Scheme deiwa lai cha ki Common Service Centre (CSC) namo Block Office wow pynpsiah pyrtuid. 
Ka M. War Nongbri da pyntip ko wa kiwa mylla toh ki wakreh nong ha yung bru, kiwa dai rood sarok, kiwa kreh Mid-day Meal, kiwa kit mar, kiwa sait kari, kiwa chna mooblock moo-it, ki mistri, wa kiwi kiwi kiwa yoh hapoh T.15,000 chi bnai, ye ki u yoh myntoi na ka Pradhan Mantri Shram Yogi Maandhan.
Ka Nongbri, da pyntip chooh chooh ko wa kiwa khayi wa kiwa seiñ khih dei yongki dahi namo Small Scale Traders and Retailers, kam ki tre dukan, ki tre karkhana, ki Commission Agent, ki tre Hotel, Restaurant wa kiwi kiwi kiwa kamai ym palat ya ka T. 1.5 klur chi snem ye ki u yoh myntoi na ka National Pension Scheme for Traders and Self Employed Persons.
Ha kani ka sngi da leh ya ka Live Webcasting yong i klam u Union Labour Minister of State, I/c for Labour and Employment, u Santosh Kumar Gangwar, wei i khana parom na kiwa da thap pyrtuid wow yoh myntoi na kini ki Scheme wa i pynpsiah pyrtuid ha ki Pension Scheme ha pchem ka State Central Library.