Daw chna noh ya ka Integrated Sports Complex kawa T. 125 Klur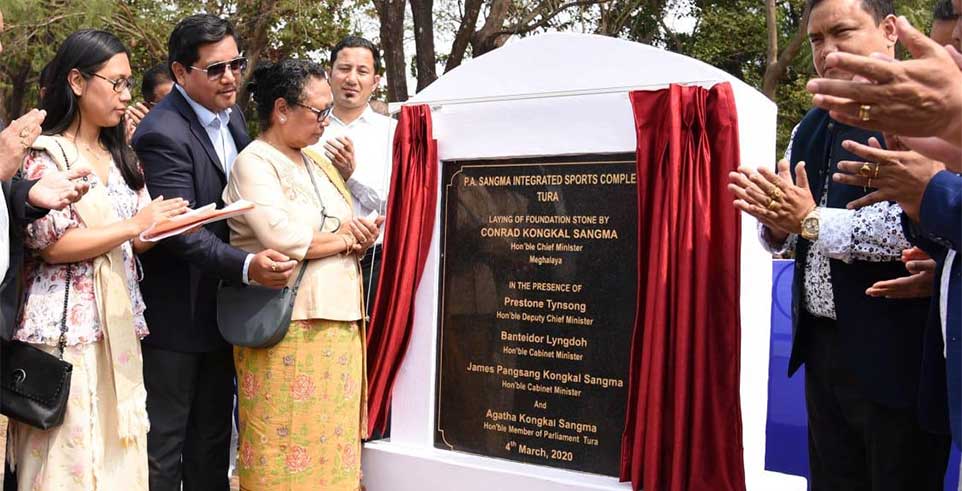 Advertisement
---
U montri rangbah ka jylla, u Conrad K. Sangma ynne da wai u ya u mot sahnaam u Speaker warim ka Lok Sabha u Purno Agitok Sangma ha P.A. Sangma Stadium, Dakopgre, Tura.
Ha kani ka sngi da emlang leh ka kurim u P.A. Sangma, ka Soradini K. Sangma, u montri ka chnat Power u James Sangma, ka MP ka Tura ka Agatha K. Sangma, u montri ka PWD (Building) Comingone Ymbon, u montri ka Commerce u Snaiwbhalang Dhar, ki MLA, MDC na Khasi, Jaintia wa Garo Hills wow booh mooyurim ya ka P. A. Sangma Integrated Sports Complex.
Ynne man ko leh ka lyngkhooh sngi yap wa 4 yong u P. A. Sangma.
U Conrad hawa e i klam da ong u wa u PA Sangma toh u chyoh yong kawi don ka thaaiñ mihsngi uwa da e mynsien ya ki bru ka thaaiñ wot hadooh kini ki sngi.
Ka P.A. Sangma Integrated Sports Complex toh kawa da chna lyngba i e yarap poisa ka sorkar pyrdi wa ka sorkar jylla wei u man ko kawa nyngkong dooh kam kani ha Meghalaya wa ka thaaiñ mihsngi ka wow pait ya ki kaam yalehke khamtam ka Football.
Chirup wa ka madan yalehke Football daw em leh ka Multi-Purpose Indoor Stadium ka wow ye u pynman ya ka Basketball, Volleyball, Table Tennis, Swimming Pool wa kiwi kiwi kamjooh leh i thaw pynyieñ kari neibynta ki 400-500 tylli ki kari.
U Conrad da pyntip u leh wa kani ka Integrated Sports Complex u chna ya ka hei lut iwa T. 125 klur.
Chooh chooh da ong u wa kani ka sngi man ko ka lyngkhooh dap snem wa ar wa yoh u chna ya ka sorkar hadien wa yohbor na u lat ka jylla.
Da pyntip u leh wa da sdang kreh ya ki Scheme waphær waphær heiwa du ya ka PMGSY da ye u chna hadooh kamwa 800 Km u sarok hapoh ar snem ka sorkar.
Ha kani ka sngi u Chairman, Tura Municipal Board, Tura J D Sangma da puræ u ya ka parom u P.A. Sangma.
U Conrad da pyntip u leh wa daw chna noh ya u sarok soo liang (Four Lane) na Paikan-Tura-Dalu wa ka Tura Bypass.
U Conrad da pyntip u leh wa da yaleh u pynmiat ya ki thaw uiñke heiwa du ha uni u Financial Year daw pynkreh ya ki Project wa T. 700 klur lyngba ka New Development Bank namo ka bank ka BRICS (Brazil, Russia, India, China and South Africa).
Ha kani ka sngi da yoh leh i klam na u montri ka Soil and Water Conservation, u Sniawbhalang Dhar, montri ka Information and Public Relations, u James K Sangma, u Deputy Commissioner, West Garo Hills, ka Director Sports and Youth Affairs, Government of Meghalaya, ka W.A.M. Booth, Deputy Director, Sports and Youth Affairs u Jasper P Marak wa kiwi kiwi.