Daw pynyoo phlim baiskoop (Documentary) ha ka 5 tarik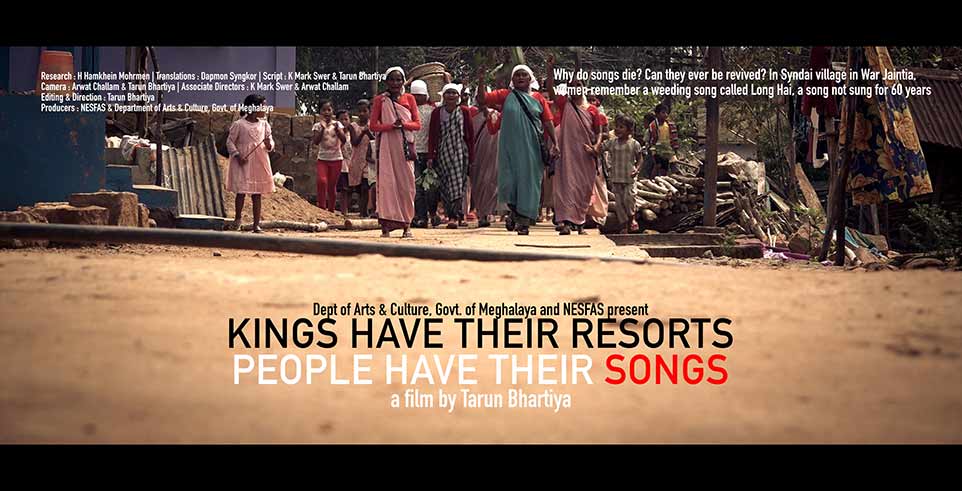 Jowai : Ha kani ka 5 tarik kam chibynta ka International Terra Madre wa da pynman da ka NESFAS daw pynyoo paidbah ya ki phlim documentary ha University of Technology and Management, hajan Laitumkhrah Presbyterian Church.
Ha kani ka sngi daw pynyoo ya 6 tylli ki phlim weiwa na kini ki 6 tylli artylli toh chaphang ka Ri-Loom Jaiñtia kitæ toh ya ka leh ñiam "Ku Yung" ha Shangpung  wei wa ka chad "Long Hai" yong ka chnong Syndai.
Ya kini ki phlim da chna wei da pynwandur da u Tarun Bhratiya, K. Mark Swer wa u Arwat Challam.
Kamtæ da khut sñiawbha ya ki paidbah u wan peit ki ya kini ki phlim ki wow pynyoo mynkna.
I thmu yong waroh kini ki phlim toh u pynsñsiawthooh ya i emkaam ki rwai ki chad ha i jingim yong kini ki artylli ki chnong.
Ha Shangpung da chem wa ha pyrdi i leh ñiam 'Ku Yung' da em leh i rwai wa i chad wa khut pyrtuit ki 'La Heh' heiwa ki paidbah wa wan pynchongchit ya kani ka 'Ku Yung' da skit ki talawiar i diñ wei da rwai ki deiwa chna ya ki kyntein (improvisation).
Katwa ha Syndai won da chem wa da mylliñ ki bru ya i chaad i rwai ya ka 'Long Hai' kawa jooh pynman ha ki por rep thiat. Ki nongchong chnong dei sikai ka wi ka men ka wa pyrtuid ka Syngkor Pohplet da sdang biang ki u pynim ya kani ka 'Long Hai'
Ya kani ka pynyoo philm u sdang nadooh ka 2 chitein ha ka tai ka 5 tarik.