Dawa ka KSU ya ki Entry & Exit ha East Jaiñtia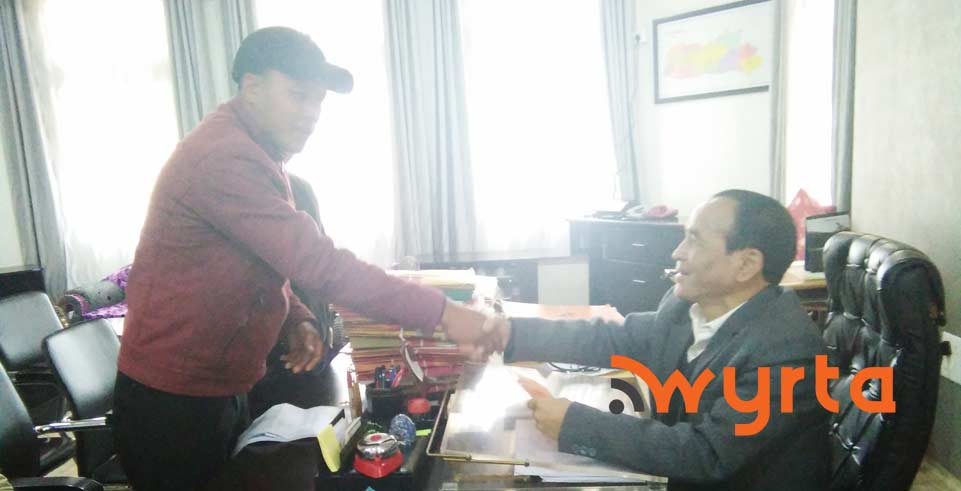 Khliehriat : Ka KSU Jaiñtia Hills District Unit ha ka 7 tarik uni bnai hapoh i yahkhmat u President ko u Ohibait Dkhar hei emlang u Vice President u Streamly S. Niangti wa u Cherity Suja, General Secretary ka KSU Khliehriat Circle wa ki kattu katni ngut ki dkhot ka seiñ da lai li booh dorkhat ki ha u DC East Jaiñtia Hills.
Ha kani ka dorkhat da dawa ki wow chna noh ya ka Entry wa Exit Point ha Malidor ha kiwi de ki thaw wa da dep Survey neibynta wow khang laad ya i psiah i mih ki baar jylla cha ka bri u Ynñiaw Wasa.
Ka seiñ da ong ko wa i chna ya kini ki thaw da sah teiñ ki hadooh katni hapoh ka East Jaiñtia Hills District iwa da dep mynjur ka sorkar jylla nadooh ki snem wa da dep. Ha kiwi tawan ki District won i kreh da lai i chaaid chaaid.
Ka seiñ leh da ong ko wa da toh leh u chna noh da ka District Task Force katkam ka aiñ Meghalaya Act No.6 of 2016 clause 5 (1) of Meghalaya Residents' Safety and Security Act, 2016 hapoh uni u snem.
Ka seiñ hei yaklam wa u Deputy Commissioner ka East Jaiñtia Hills District hei yatoh wa ki mat wa dawa u DC da ong u wa neiliang yong oo da kular u wow chimkhia hajrong kini waroh neibhah wa kini man ki, ki dawa wa paka.
Neiliang ka seiñ da kyrpaad ko wow pyndep wow chna ya ki Entry wa ka Exit Point hapoh uni u snem kamjooh wow pynkrehkaam noh ya ki.