Hadooh 8 tylli ki takma yoh ka WJH ha ka yalehke Wushu haka Meghalaya Games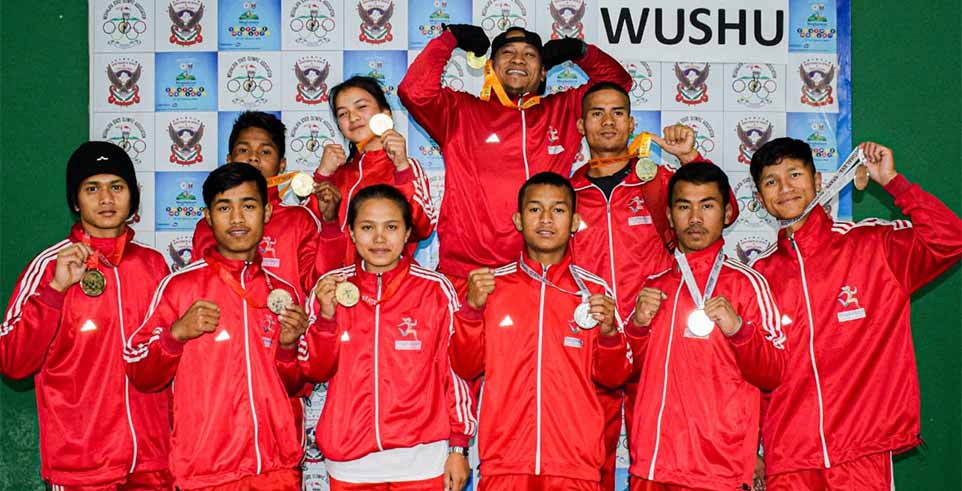 Advertisement
---
Ki khloor yalehke Wushu ka West Jaiñtia Hills da yoh ki u wanrah hadooh 8 tylli ki takma ha kani ka lympung yalehke Meghalaya Games 2019-20 wa dang dep pynman wot ini wadep.
Ha kani ka lympung da yoh hadooh 4 tylli takma Ksiar, 2 tylli takma Rupa wa 2 tylli takam Tama.
Kiwa yoh takma na WJH ha kani ka lympung kynthup ki ya kini hawah:
1. Sambormi Lyngdoh (Senior Men – 75kg) Gold Medal na Dongmihsngi Ladthadlaboh, Jowai.
2. Fivestar Bareh (Senior Men – 56kg) Gold Medal na Jalaphet Bri-Sutnga uwa puræ ha Shillong Commerce college.
3. Armi Roy Iakai (Junior Boys- 54kg) Gold Medal na Iooksi Iapkhla Moblang, uwa puræ ha Iooksi Presbyterian Secondary School.
4. Refiness Warjri (Junior Girl – 48kg) Gold Medal na Laitkor Lumheh Kynton-u-mon wa puræ ha Auxilium Girls Higher Secondary School Shillong.
5. Dao wan Suchiang (Senior Men – 60kg) Silver Medal na Laitkor Mawri Lumheh, wa puræ ha Shillong College Higher Secondary School.
6. Dakynmoo Nongtdu (Junior Boys – 48kg) Silver Medal na Nartiang wa puræ ha Deni Linda Persara Sec. School, Laitkor.
7. Wandyjop Shadap (Senior Men – 65kg) Bronze Medal na Ialong, WJH. 
8. Satisfy Syngkon (Senior Girl – 56kg) Bronze Medal na Nongkynrih wa puræ ha Thomas Jones Synod College, Jowai.
Ya kiwa yalehke na WJH da yahkhmat da u Ferdinand Suchiang ryngkat wa u Niawki Iakai.
Kam wow pynkynmoo heini ya kani ka lympung da pynman da ka Meghalaya State Olympic Association and Directorate of Sports & Youth Affairs, Meghalaya ha Shillong wei kani ka lympung toh wa da sdang ha ka 17 hadooh 21 tarik uni u bnai.