Hoping Stone laid to rest amid full state honors at Mawkyllei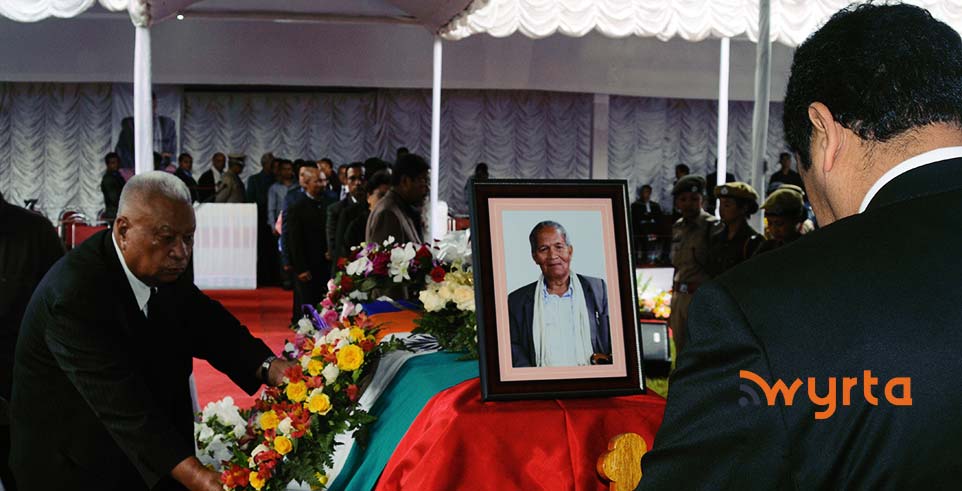 Shillong: Late Hoping Stone Lyngdoh, MLA , Nongstoin, was laid to rest at his native village of Mawkyllei, amid full state honors today at Pariong, West Khasi Hills. The funeral was attended by
Chief Minister, Dr Mukul M Sangma, Speaker, Meghalaya Legislative Assembly, A. T. Mondal, Deputy Chief Minister, Rowell Lyngdoh, Minister, Transport, GAD, Cooperation etc HDR Lyngdoh, Minister, Health, I & PR etc A L Hek,  Minister, Home, Police etc Roshan Warjri, Minister, Urban Affairs, Labour etc Ampareen Lyngdoh, Chief Advisor to Government of Meghalaya, D D Lapang, Chief Secretary, Meghalaya, P B O Warjri, and Leader of Opposition, Dr Donkupar Roy besides other Members of Legislative Assembly and members of district councils.
Advertisement
---
The Chief Minister paying rich floral tributes to the late legislator said that Hoping Stone Lyngdoh was a leader of the people who loved people and was loved by people. Recalling his acquaintance with the late leader as early as his school days, Dr Mukul M Sangma said that Late Lyngdoh was a stalwart among the politicians who selflessly pursued the objective of statehood. While recollecting the contributions of the leader he said that Mr Lyngdoh was a politician who was known for many good things which he practiced and demonstrated with his way of living. "His impeccable integrity in public life, the most important quality of a man who spent his entire life in serving the people, is something for us to emulate," said the Chief Minister.
Dr Mukul Sangma said that another quality of late Hoping Stone Lyngdoh was the consistency with which he followed small and major issues alike which were not taken up by him for any political mileage but for the love for his people. He said that Mr Lyngdoh was instrumental in sensitizing many in responding to given challenges, "New politicians learnt many things from the great leader and he was the only politician to become rich after elections which is a reflection of the love he had earned that is for all to learn and emulate", Dr Sangma stated.
While sharing the grief of the bereaved, the Chief Minister said that the many great qualities of the committed leader will not get disconnected but his life will be available for all so that his qualities can be emulated and passed on to the next generation.
Nongkrem MLA Ardent Basaiwmoit, Dr Donkupar Roy and D D Lapang also spoke of their association with the late leader and his many contributions to the region and the state in particular. A 21 gun salute was also accorded to the late leader by personnel of Meghalaya Police.  Thousands of people from the village and neighboring areas, church leaders, students, government officials and members of various organizational bodies attended the funeral to pay their last respect to the dear departed leader. (MIPR)