Jaintia Hills producing record high tomatoes.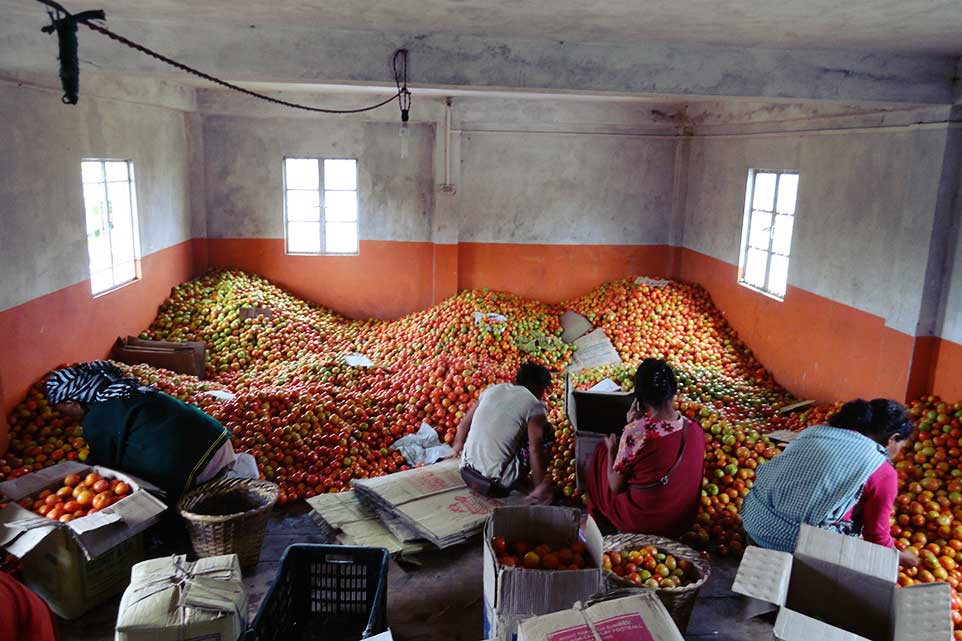 Mookyndur: The Horticulture Department of Jaintia Hills is going for a record in production and exporting of tomatoes from its three collection centres in West Jaintia Hills, two of which are in Mookyndur and the other in Wahiajer.
Eris Suting, a member of Chirooplang self-help group that runs the collection centre at Mookyndur, keeps a record of the deliveries and sales of the tomatoes and confidently says that her stock never last more than a night. On a good day, they sell up to 10 tonnes of tomatoes while on an average day it's around 4-5 tonnes. In her book, she shows the list of buyers that come from Assam, Tripura and Bangladesh.
The collection centre also sells pear squash, plum, ginger, capsicum, radish, and cauliflower to its buyers who line up in their pickup trucks and mini trucks. The collection centre has managed to supply out-of-state markets as production drops in the plains during the monsoon season.
The additional boost to the farming workforce is former coal truck drivers who have turned to agriculture following the halt of coal mining and its transportation. Salan Pakyntein is one of them. Weighing his three basket full of tomatoes that weigh around 55-60 kg per basket, he explains that he has started growing tomatoes this year and now prefers this kind of work to driving a truck. He is paid around Rs. 10-15 a kg depending on the market price on that particular day.
But all is not well. In a tomato farm in Mookyndur, Rolina Bamon and her family are inspecting and trying to salvage their crop as the incessant rain this year has damaged and also led to the tomatoes bearing infections on their skin. She, however, keeps a thankful outlook and is grateful for the collection centre as it has saved her the cost of transportation, local market taxes and making sure none of her produce is left over with her to rot and decay.
According to Y. Shylla, Horticulture Officer, the magic number they are aiming for this year is 16,000 metric tonnes. The department also sells subsidised seeds to the farmers and imparts trainings to help them build their farming knowledge. The next natural step, Shylla says, is value addition in terms of supplying tomato pulp as it is in high demand.