Joint Secretary of MoRD inspects MGNREGS works in the state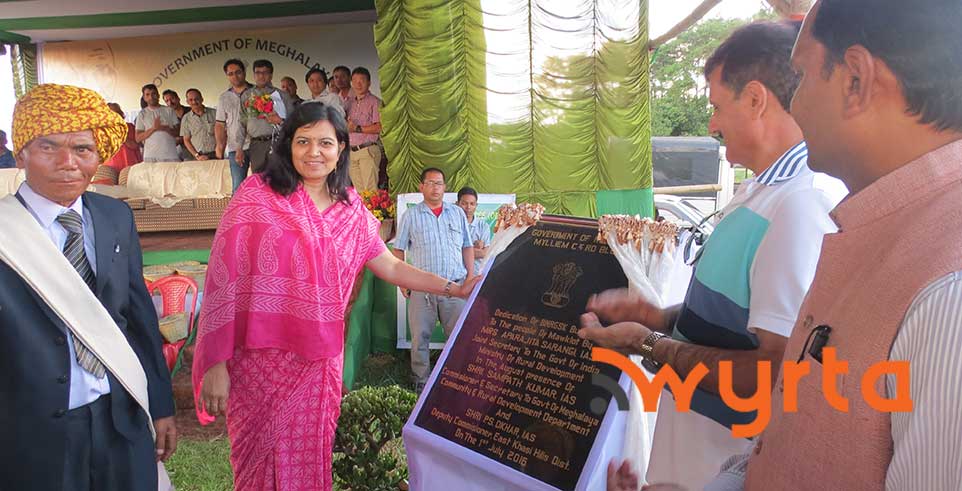 Shillong: The Joint Secretary to the Government of India, Ministry of Rural Development, Smti Aparajita Sarangi visited the state today to inspect completed and ongoing MGNREGS works.
The visit is part of the Inter State Exchange Programme of the MoRD which saw the participation of delegates from ten states across the country. During her visit, the Joint Secretary went to Sadew and Mawklot villages under Mylliem C&RD Block, witnessing firsthand the changes that MGNREGS has brought to the lives of the people.
The Joint Secretary was impressed, in particular, with the individual livelihood projects, such as piggery and poultry sheds, offered by MGNREGS enabling the villagers to supplement their income over and above the one hundred days' wages under MGNREGS. She also lauded the efforts initiated by the BDO, Shri Peter Tremi Passah to achieve Open Defecation Free status through sanctioning Individual Household Latrines to houses without toilets.
In a function held in the meadows of Mawklot village, Smti Aparajita Sarangi praised the progress and the innovations in the field of MGNREGS in the state of Meghalaya. She expressed confidence that the execution of MGNREGS will move from strength to strength and continue to serve the people in rural areas while the centre ensures free flow of funds for this scheme.
During the programme, she also inaugurated the BNRGSK Building, Mawklot VEC and declared Sadew village Open Defecation Free. The function was also attended by Shri P. Sampath Kumar, Commissioner and Secretary, C&RD Department, Shri P.S. Dkhar, Deputy Commissioner, East Khasi Hills District, Shri Khurshid Ahmad, Secretary, Government of Jammu and Kashmir and also the Project Director, DRDA, East Khasi Hills District, Smti P. L. Lawai. (MIPR)