Ka esikai wow seiñ khih na i song baam wa kammon u pynneh ya ki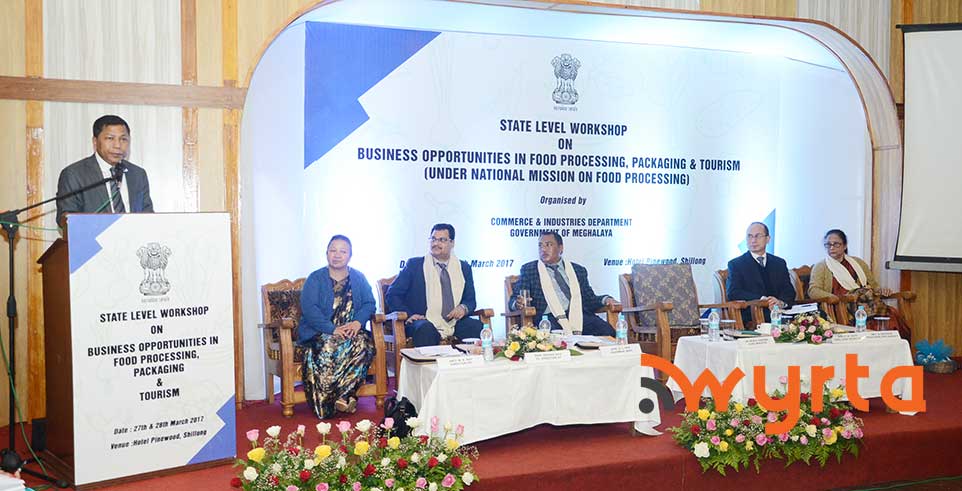 Shillong : Ka tnat Commerce & Industries da pynman ko ya ka Workshop wa ar sngi hei yatoh wow yoh khih na ka "Food Processing, Packaging & Tourism" næ ka esikai kammon wow pynneh slem yei baam, wow song baam wa ka kaam uiñsawari yeiwa da pynman hapoh ka National Mission on Food Processing ha ki ar sngi ka 27 wa ynne ka 28 tarik ha Hotel Pinewood, Shillong.
U Dr. Mukul Sangma kam u kongsan ha kani ka sngi da ong u wa kani ka esikai toh ka wow yoh myntoi bha ki khynroo khyllood wa kwah u seiñ khih wei man ko leh kawa emkaam bha ya ka jylla wow song baam deiwa em pyrtuid (Branding), u pynneh pynsah ya ki baam wa song yow tipmit ki bru ya ki baam wa mih na ka jylla Meghalaya. Da ong u leh wa ka sorkar da sdang ki kattu katni ki scheme wow yarap ya ki khynroo khyllood hei yatoh wa ini yow ye ki u yieñ ha ki yong ki hi ki kjat.
Chooh chooh da ong u leh wa ha ka pyrthai wa katni da em ki kyrdan yei rukom pynmih baam, chna baam u pynneh ya ki baam wei i thong yong kiwa kreh ha kini ki kaam toh yow pynryngkat wa i rukom leh lang ha waroh ka pyrthai. Ki baam leh emkaam u man ki kiwa phær yow yoh u ong wa ya kini u yoh du na Meghalaya donhi.
Ha kani ka sngi da em leh u Chairman, MIDC, u A.L. Hek kam u symbood kongsan uwa da ong wa hapoh ka jylla em i boon tylli ki soh wa ye i u chna umsoh wa kiwi kiwi yow yoh kreh ki paidbah wa im khamtam cha ki thaiñ palatchnong kamtæ da kyntu u ya ka tnat Commerce & Industry wow chdooh kti ya kiwa kwah u seiñ khih yow ye u pynman sakhiat ya ki kabu wa em ha kani ka jait khih.
Ha kani ka sngi da phyllu yumut ha ki phang wa boon kam ka "Promotional Schemes & Policies for Horticultural Products", "Management of Food Processing Enterprises", "Bamboo as source of Health Food & Nutrition", "Food Safety Standards Authority of Indian Act", "Exploring the Nature & Traditional Knowledge for Business with focus on Meghalaya", "Flexible Packaging Materials", "Promotional Schemes and Policies for Development of Tourism".