---
Advertisement
Leh warom ka Pohmusiang SSA UPS ya ka World Yoga Day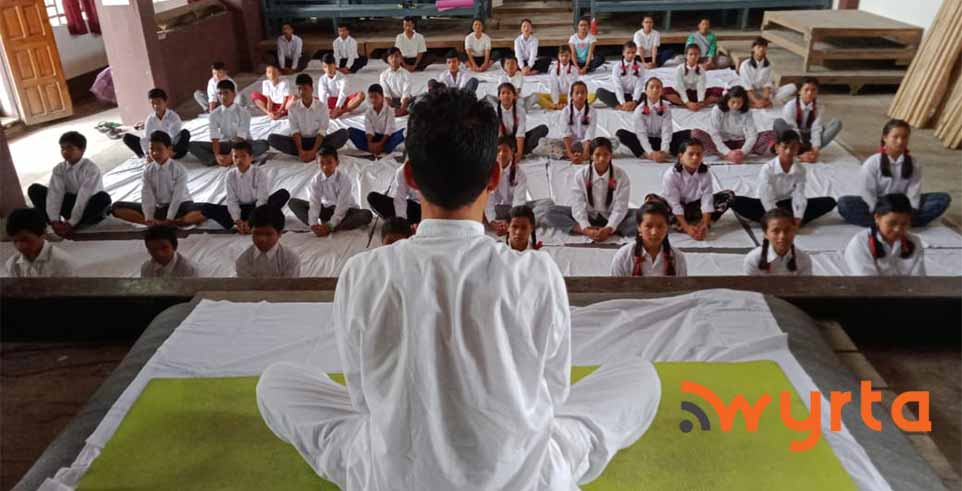 Jowai: Kamwa ha chityllup ka pyrthai ynne ka 21 tarik da lehwarom ya ka 5thInternational Yoga Day, ha Jowai leh ya kani ka sngi da lehwarom da ka Art of Living West Jaiñtia Hills chirup wa ka Pohmusiang SSA UPS ha Yungwalieh ka Dorbar Chnong Loomiongkjam heiwa ki khynnah skur wa kiwa sikai dei sñiawkhia da chimbynta ki ha kani ka sngi.
Chwa wow sdang i leh ya ki rukom ka Yoga, da yoh yei klam i batai hei yatoh wa kani ka sngi na u Kamnipaia Challam, Asst. Teacher and Yoga Instructor Art Of Living wa na ka Sonita Passah, Head Teacher.
U Kamnipaia hei klam da kyrsu kyntu u ya ki khynnah wow chimbynta ki nadooh mynsien khnang yow man iwon iwon iwa leh ynne u man i myntoi wakhroo, neibhah ka Yoga hi man ko ka dawai wa ye u wanrah yei long i man wa chait wakhiah hawaroh ki liang katwa ka Sonita Passah won da khana pynsñiaw ko hapyrdi ki khynnah yei myntoi iwa ka Yoga e ko ya ki bru kiwa chim u pynwyrngia yei por ha ka.
Ha kani ka sngi ka Art of Living, West Jaiñtia Hills chirup wa ka Dorbar Chnong Chiliangraij da kynmoo warom ki ya kani ka International Yoga Day ha Yungwalieh heiwa da wan yachimbynta da ki dkhot ka Art of Living deilang wa ki khon ka chnong Chiliangraij.
Neiliang u waheh chnong ka Chiliangraij da e u i sñiawngooh wakhroo ya ka Art of Living kawa da chimkhia yeini i kaam hei wow pynman ya kani ka sngi neitæ won u Pearlet Toi yong ka Art of Living da e wyrta u hapyrdi kiwa yachimbynta ya ki rukom yong ka Yoga watoh u leh ha kani ka sngi wei wow batai leh hei ktien Pnar wada thoh hei ktien Sanskrit iwa klam chaphang ka Yoga.
Ya kani ka International Yoga Day dachim wow kynmoo warom ha ki chnong yong ka District iwa man hei pynlai ka Art of Living kam ha Mihmyntdu, Raliang wa ha Shangpung.
Advertisement