MBDA and MLAsia signs MoU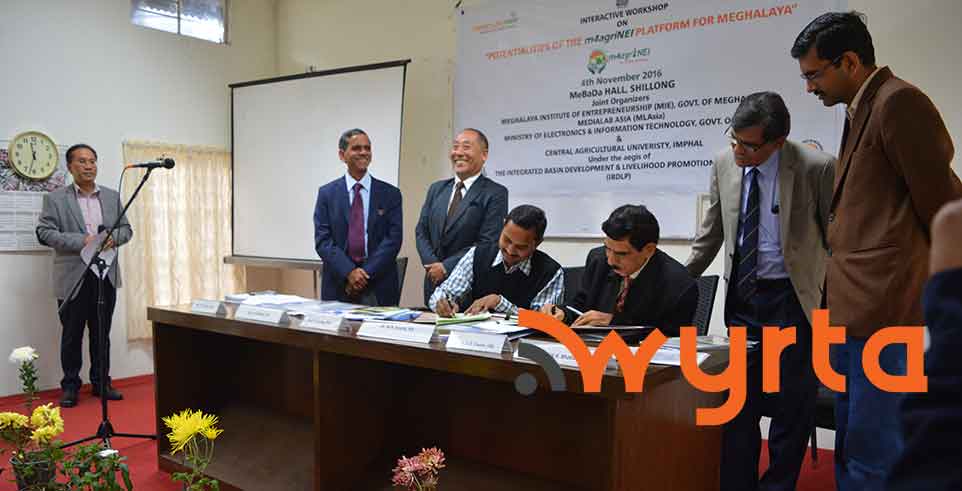 Shillong : A Memorandum of Understanding (MoU) was signed today, the 4th November, 2016, between Meghalaya Basin Development Authority (MBDA) and Media Lab Asia (MLAsia), a company conceived and set up by Ministry of Electronics and Information Technology (MeitY), Government of India, during the workshop on Potential of the m4agriNEI platform for Meghalaya at MeBaDa Hall of the Meghalaya Institute of Governance, Shillong.
The MBDA was represented by the Meghalaya Additional Chief Secretary, Shri. Y Tsering, Shri. R M Mishra, CEO, MBDA and Shri. P S Kumar, Deputy CEO, MBDA while MLAsia was represented by Dr. M R Anand, Sr. Advisor, MeitY, Government of India and MD & CEO, MLAsia and Shri. V K Bhatia, Senior Director (Research).
Shri. Y Tsering, in his speech as the Chief Guest, commended on the exemplary work of the MBDA and said that the signing of the MoU is a testimony of the excellent initiatives that it has taken to empower the people of the State right from the grassroot level. He also said that the MoU lays the foundation for a fruitful and productive partnership between the Government of Meghalaya and the Ministry of Electronics & IT and he is optimistic that this association will strengthen knowledge delivery services and make the m4agriNEI platform an invaluable tool for enhancing farmers' income through better production, management, networking and marketing of their products.
Others who spoke on the occasion were Dr. M R Anand, Shri. R M Mishra, Shri. P S Kumar and Shri. V K Bhatia who gave a presentation on the aims and objectives of m4agriNEI.
Later in the day, a workshop was organised by the Meghalaya Institute of Entrepreneurship (MIE) in collaboration with Media Lab Asia (MLAsia), Ministry or Communications & Information Technology, Government of India and Central Agriculture University, Imphal to deliberate on the potentialities and applications of Information and Communication Technologies (ICT) and the m4agriNEI platform developed by MLAsia for Meghalaya with special reference to EFC partners and the farming community and entrepreneurs of the State.
It may be mentioned that Mobile Based Agricultural Extension System in North-East India (m4agriNEI) agro advisory services were launched in 2013 by the Ministry of Electronics and Information Technology, MeitY along with the Government of Meghalaya at the College of Post Graduate Studies, Umiam with the objective to empower the farmers by providing right information at right time. The software platform being used for m4agriNEI is the Interactive Information Dissemination System (IIDS) which is developed by MLAsia. IIDS is an integration of Toll free Interactive Voice Response System, Smart Phone Application, mobile phone messaging and Web based agriculture advisory system. Through the system, farmers can dial the Toll Free Number 1800-22-3700 and get the information as well as agro-advisory services or they can access the m4agriNEI mobile application where they can enter their queries or retrieve information from the system.
Currently, m4agriNEI is implemented in the Districts of Ri Bhoi, East Khasi Hills, West Jaintia Hills, West Garo Hills and South West Garo Hills where more than 11,000 farmers are registered to receive the agro advisory services. Two multimedia agro advisory labs have also been established by MLAsia at College of Post Graduate Studies, Umiam and College of Home Sciences, Tura to cater the farmers' queries. (MIPR)