MSL: Jop ka Umrit SC yaka Royal FC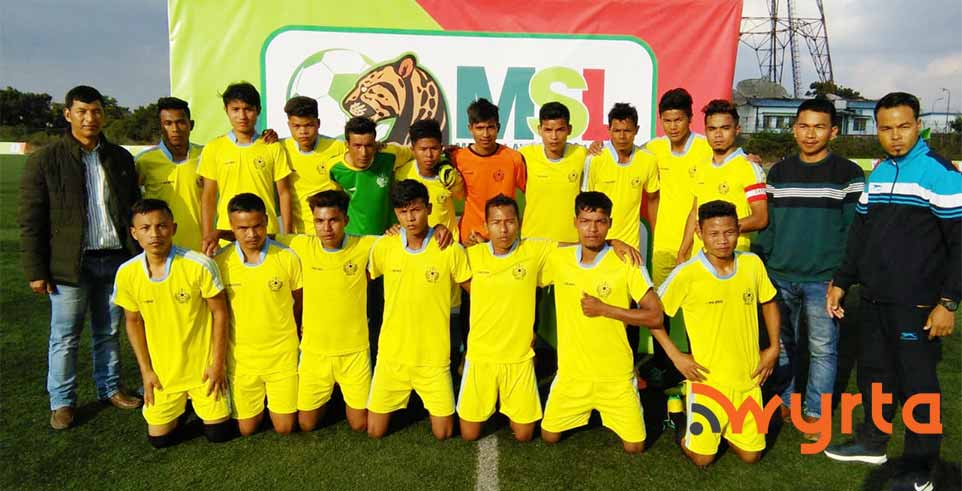 Jowai: Ka yalehke Meghalaya State League (MSL) 2019 kawa pynman du kawi ynne ka sngi kawa pynman haka Group A ha Kiang Nangbah Stadium, Jowai, ka Umrit SC (Ri-Bhoi) da yachem ko waka Royal FC (Sohra).
Ka Umrit mar ya sdang ka yalehke haka minit wa nyngkong yoh wot ko wow thap kool kawa thap da u Khmihlang Thangkhiew.
Kani ka kool da neh ko hadooh wa kut yow e yei jop yaka Umrit da 1-0.
Yei naam Man of the Match da yoh u Khmihlang Thangkhiew (Umrit).
Ki yalehke mynstep ka 4 tarik man ki kamni ha wah:
Group A (Jowai): Umbaker SC Vs Lumniwar SC heipor 1:00 PM.
Group B (Khliehriat): Iatyllilang Lumsehkot SC Vs Sutnga SSCC heipor 10:30 AM; Jalaphet Bri Sumer FC Vs Mynthong heipor 1:30 PM.
Group C (Mawkyrwat): Khliehmawlieh Youth Club Vs. Mawkophed SC heipor 10:30 i step; Nongdaju Sem Samla SSCA Vs. Madan Bynther SC heipor 1:30 PM.
Group D (Resubelpara): Resu Conventus FC Vs Salaram FC heipor 10:30 i step; 7 Wasa Vs. Druma Sandruma SC.