Psiah Final ka Combine FC ha Wahiajer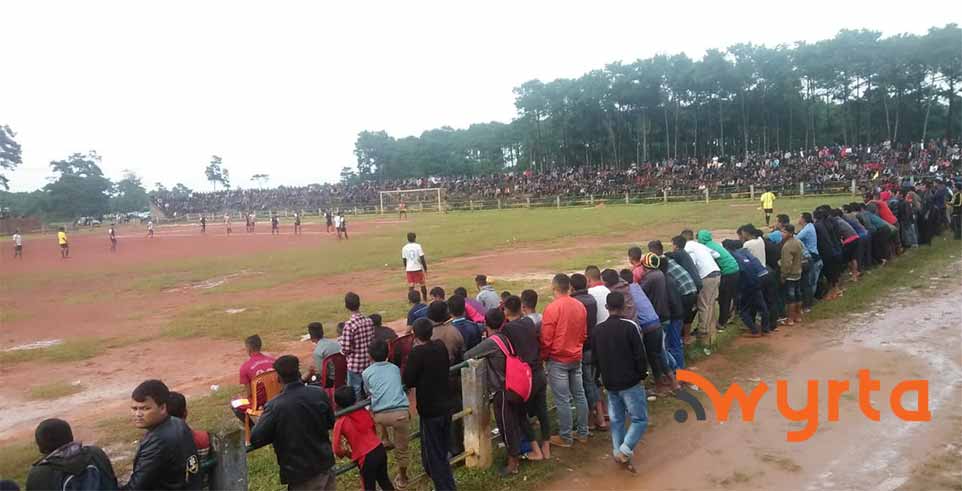 Jowai: Ynne ka sngi ka yakhun Semi Final yong ka 5th Invitation Knockout Football Tournament ha Wahiajer da pynman hapyrdi ka Combine FC wa ka Mawmang SC.
Ha kani ka sngi ka Combine FC da jop ko da 2-1 wei ya ki kool ka Combine FC da thap da u Lastborn Suting ha ka minit wa 51 wa na u Masan War ha ka minit wa 75, katwa ya ka kool ka Mawmang SC da thap da u Samson Nongrum ha ka minit wa 71.
Da ini i jop ka Combine FC da yoh ko u psiah cha ka Final ha kani ka lympung ka wow man ha ka 27 tarik uni u bnai.
Ya i naam Man of the Match da yoh da u Dayowanki Pale uwa man uwa yalehke ka Combine FC wei ya kani ka khusnaam da e da ki ar ngut ki MDC kiwa kynthup ya u Eveningstar Teron uwa man u MDC na Nongjngi wa u Jesse Suiam uwa man u MDC na Moodymmai.
Ka yakhun wa bood u man ko ha ka 19 tarik hapyrdi ka Ryntih SC pyrchah ya ka MLP heipor 2:00 waje i sngi.