Pynkup burom ka Officers Club ka EJH ya u Kamphereiei Pala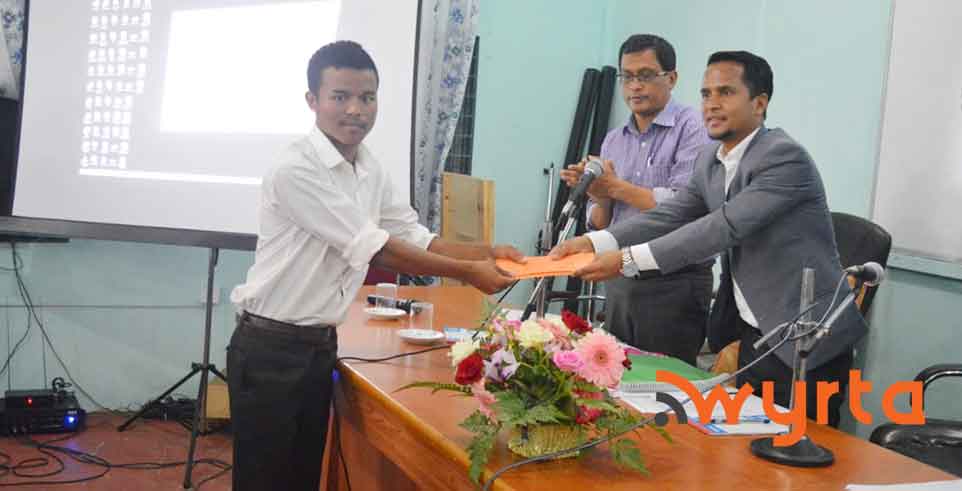 Advertisement
---
Advertisement
---
Khliehriat: Ka Officers Club, East Jaiñtia Hills District ynne da pynman ko ya i pynkup burom ha Conference Hall u Deputy Commissioner, Khliehriat neibynta i kreh chitom u Kamphereiei Pala uwa man u khynnah yong ka North liberty Higher Secondary School, Jowai, u khon u J. Pachiang wa ka K. Pala, kiwa na ka chnong Moolamylliang, East Jaiñtia Hills District uwa da yoh yei kyrdan 8th Position ha ka HSSLC Examination 2019 wei da yoh u 88% haka National Eligibility Entrance Test (NEET) 2019.
Ha kani ka sngi da em u montri ka chnat Social Welfare Minister, u Kyrmen Shylla uwa da man kam u kongsan hei emlang u F.M. Dopth, Deputy Commissioner ka District, u Vivekananda Singh, Superintendent of Police wa kiwi kiwi.
U Kyrmen hawa e yei klam da pynsñiaw u yei mynsien wa kmen wa u Kamphereiei toh uwa napoh ka District uwa da yoh yeini i naam ha ka HSSLC Examination 2019 wa pynman da ka Meghalaya Board of School Education (MBOSE) deiwa pynrap leh wow man u kam ka nongmuna ya kiwi tawon ki khynnah hapoh ka District.
U Kyrmen da ekti u leh ya u Kamphereiei Pala da ka Certificate wa ka song poisa kam ka dak wow burom yeiwa da leh u.
U Kamphereiei Pala da ong u wa ka puræ puthi hapoh ka District ym man ware ko hadooh kattæ kawa miat hawa wyrchaw wa kiwi ki District ka jylla katwa kamtæ da kyntu u ya ki bor sorkar wow chimkhia wow pynjanai wei wow pynmiat ya kani ka bynta.
U F.M Dopth leh hawa e i klam da e khublei u ya u Kamphereiei deiwa yaroh leh yei mynsien yakhun mynsien yaleh yong oo.