Pynyoo ki khynnah ya u soh wa mih naka "Children Theatre Workshop"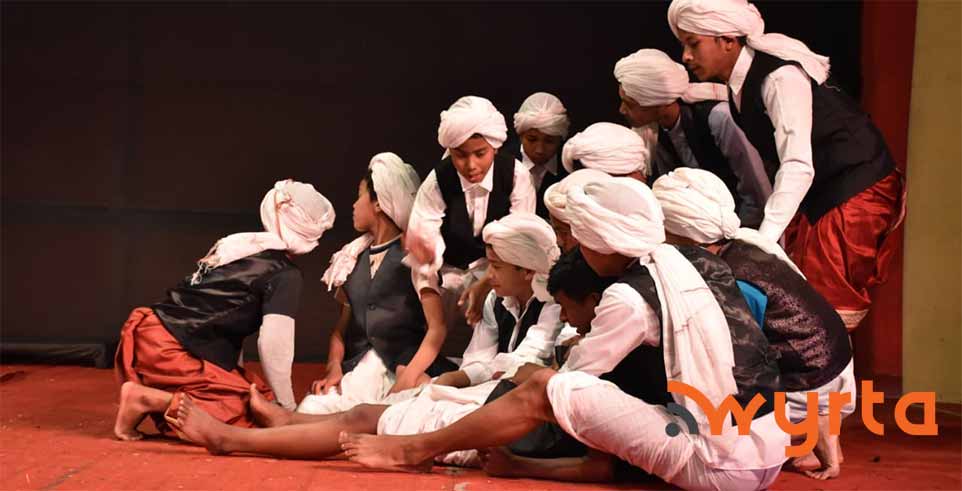 Advertisement
---
Jowai: Hadien kamwa chibnai haroh wa ki khynnah wa hapoh i rta 18 snem da chah sikai ki heiyatoh i rukom leh drama watip kam ka "Children Theatre Workshop" wada pynman daka Sangeet Natak Akademi North East Centre chirup i krehlang ka Department of Art & Culture ka sorkar jylla ha Mynthong District Library Jowai, haka 15 tarik u Thohlakhmi kawa man ka sngi pynkut da sakhi waki khynnah em sakhiat ki ka sap ak drama lyngba i pynyoo yong ki hajrong rynsan ya artylli ki drama ka "Power of Unity" næ i bor yong i yatylli katwa kawi won toh ka parom u Kiang Nangbah heipor shynchaar ki phareng.
Kamwa ka thong yong kani hi ka Workshop toh wow pynku wei pynneh pynsah yaka riti dustur heiyatoh wa i rukom chaad, rukom rwai, rukom ak wa kiwi kiwi deiwa leh heijooh i por hajrong ryngsan hawa leh drama, da sakhi wa haka drama wa pynyoo ki ha kani ka sngi leh nadooh ki wa rwai wa tem da chim bynta daki khynnah hi nalor wa pynemkam ki tiar tem tynre.
Ha kani ka workshop da chah sikai palat 60 ngut ki khynnah wa hapoh i rta 18 snem. Ha kani ka sngi da em leh ka yalang tbian wei da yoh i klam na u Arup Bordoloi Project Director, SNA NE Centre uwa da khana wa i chakri yong ka Sangeet Natak Akademi North East Centre, toh hajrong ka yurim wow pynku yei sap ak drama (theatre) haki thaiñ Northeast.
Neitæ da yoh leh i klam na u Wansalan Dhar, Local Co-ordinator Workshop, na u Deepal Joshi Sangeet Natak Akademi North East Centre, u Sonit Saikia Camp Director of Workshop, D. Kharjani Archivist Director of Art and Culture Govt. of Meghalaya, u Wanphrang Hayong Gassah In-charge Librarian Jowai wa kiwi.
Ha kani ka jooh ka sngi da saam leh yaki Certificates cha waroh ki khynnah wada wan chim bynta.