Saam tre dieñ soh u Dr. Mukul kam chibynta yong ka Horticulture Mission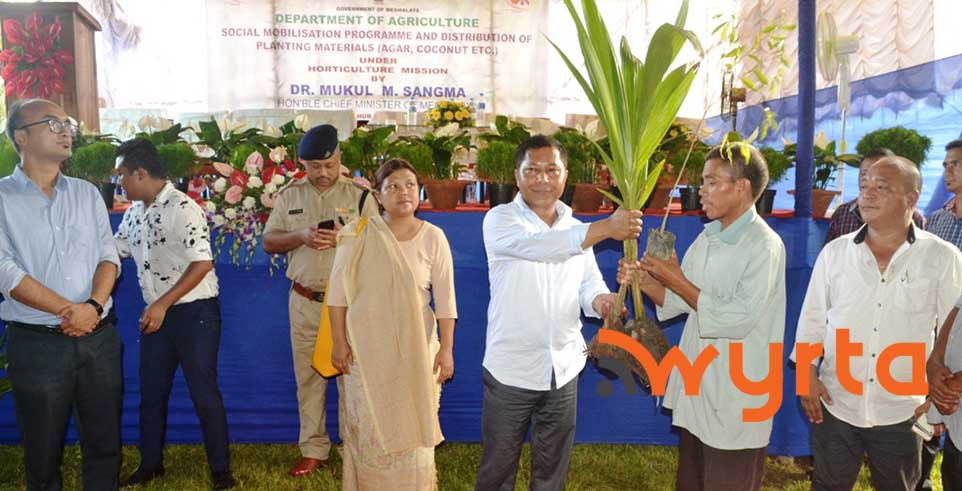 Ampati: U Chief Minister ka jylla u Dr. Mukul Sangma da yahkhmat u ya ka Social Mobilization Campaign on Horticulture Mission heiwa da saam u ya ki ya ki tre dieñ cha kiwa rep ka Betasing & Zikzak C&RD Block ha Ampati & Zikzak, South West Garo Hills ha ka 17 tarik.
Ha kani ka sngi da emlang u MLA ka Salmanpara u W.D. Sangma, ka MLA ka Mahendraganj kawa man leh ka Chairperson ka Meghalaya Resources & Employment Generation Council ka Dikkanchi D. Shira, u Deputy Commissioner C.V.D. Diengdoh, Superintendent of Police u Bobby W. Momin, Joint Director of Agriculture, Garo Hills, B.N. War wa kiwi kiwi.
Hei klam ha kani ka sngi u Dr. Mukul da ong u wa kam kini ki yalang emkaam bha kam chibynta wow esikai wei wow kyrchaan ya ki paidbah khamtam ki warep.
Da kyntu u leh ya ki paidbah yow sumaar ki ya kini ki tre dieñ wa ki symbe kiwa da e da ka sorkar wa ki tnat sorkar neibhah em chiboon i myntoi wow yoh na i kaam rep.
Hei yatoh won wei pynjæd tympra ki hati khloo ya ki thaw rep wa ki kpær ki paidbah, u Mukul da pynbna u wa ka sorkar daw wanrah ko ya ka scheme wow saam ya ki tre dieñ khontara heiwa ki warep u da u kær ya ki kpær yong ki. Da pynbna u leh chaphang ka scheme heiwa da saam ya ki tre dieñ ki wow mih soh.
Kiwi kiwa da klam toh u W.D. Sangma, ka Dikkanchi D. Sangma, u C.V.D. Diengdoh, u District Horticulture Officer u N. Ch. Sangma wa kiwi kiwi.