Sdang pynkhreh ka sorkar ya ka Trade Policy: Conrad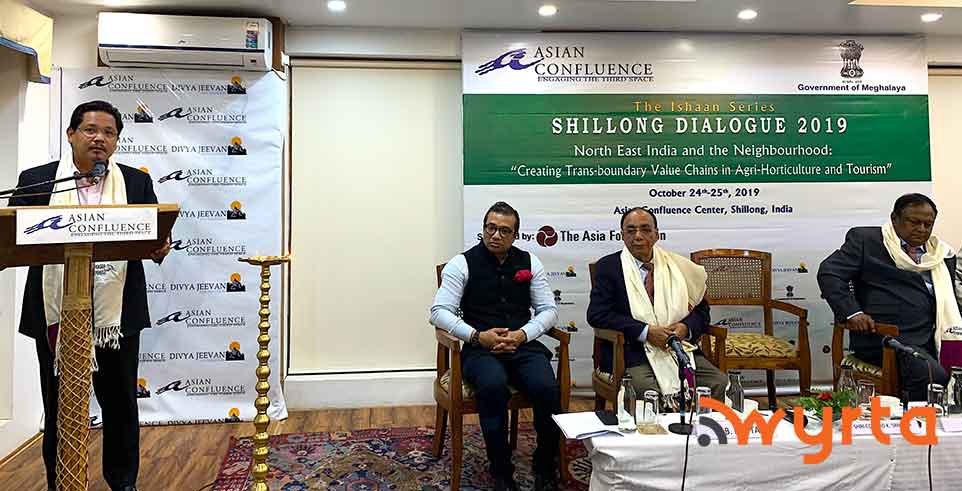 Advertisement
---
Shillong: U nontri rangbah ka jylla, u Conrad K. Sangma ynne da ong u wa ka sorkar thmu ko wow wanrah ya ka Trade Policy ka wow pait yei khayi hapoh ka ri kamjooh leh cha baar ri heijooh i por ki wow kwah u seiñ khih hapoh jylla kiwa napoh ka ri kamjooh leh kiwa na baar, yeini u Conrad da ong u hawa e i klam ha ka yalang "The Shillong Dialogue" wa pynman da ka Asian Confluence chirup wa ka Meghalaya Basin Development Authority. 
Ka phang pyrdi yong kani ka yalang toh kawa ong 'Creating trans- boundary value chains in Agri/Horticulture and Tourism with Northeast India'.
Ha kani ka yalang da wan chim bynta da ki bru samen na India wa Bangladesh heiwa da yaklam hajrong ki laad seiñkhih wa em ha ka thaaiñ mihsngi wa ki ri wa em hajan ka thaaiñ. 
U Conrad da ong u wa ka jylla Meghalaya da sdang ko u yakreh wa ki ri wa yajan wa ka khamtam kiwa yatoh wa ka rep ka riang, ka kaam uiñke suwari wa kiwi kiwi. 
Da ong u leh wa ka Meghalaya wa ki ri wa yajan wa ka thaaiñ ye ki wow yakrehlang ha ka khayi pateiñ wei kiwa rep leh ye bha ki wow myntoi na ini.  
U montri ka Bangladesh wa pait ya ka Commerce u Tipu Munshi uwa da emlang ha kani ka yalang da ong u wa ka Bangladesh man ko kawa smat wow yarap ya ka India kamjooh leh wailaad ko ya ki bru wow seiñ khih hapoh yong ka.