Shillong International Photo Festival 2015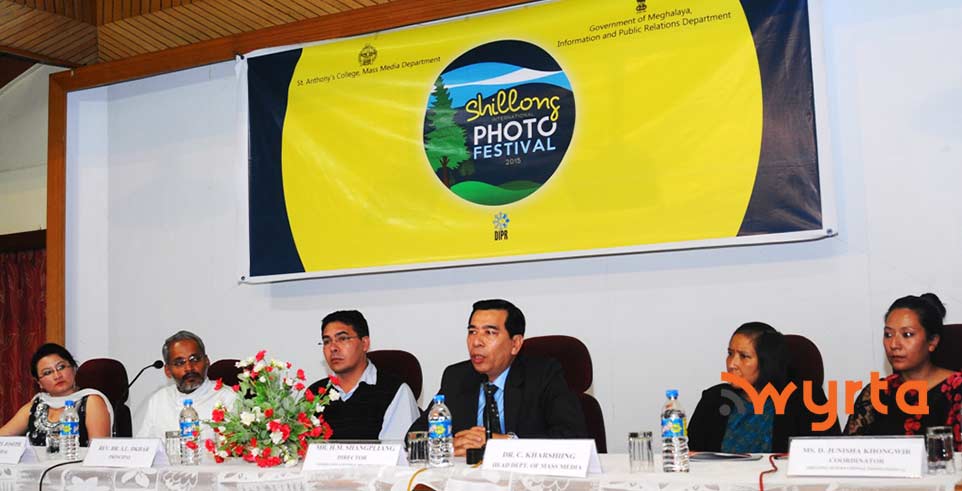 Shillong: The Department of Information and Public Relations, Government of Meghalaya in collaboration with the Mass Media department, St. Anthony's College, Shillong will organized the "Shillong International Photo Festival" from 16th to 19th November, 2015 on the theme "Light".
H. M.Shangpliang, Director Information and Public Relations and Rev. Br. A. L. Dkhar, Principal, St. Anthony's College briefed the media persons on the programme and preparation of Shillong International Photo Festival. D. Junisha Khongwir, Coordinator, Shillong International Photo Festival present a power point presentation on the detail events of the festival. Others present on the press conference includes Rev. Fr. Joby Joseph, Vice Principal and Director Mass Media, Dr. C. Kharshiing, Head of Department, Mass Media, and R. Ishorari.
Advertisement
---
The International photo festival will be the first of its kind in not just Meghalaya but also in the North Eastern region aiming to cultivate a photography culture in the region and to enrich the art form. The festival also provides a vast and holistic understanding on contemporary and classic photography and to build a bridge between the young photo enthusiasts of the state with the professionals. During the festival, the professional photographers will help to polish the skills of the young photographers and understanding the marketing strategy they need to possess in order to be able to sell their work.
The objectives of the  International Photo Festival is to place Meghalaya as a destination for photographic art culture and bring together renowned photographers from overseas, India and also the eight states of the northeast India working on different genres, to share and explore their stories through their lenses. The festival will also provide an opportunity for the youth to interact with the professionals and draw inspiration from their work.
The events for the festival includes photo exhibitions, photo talks, panel discussions on the topics 'In light of the many techniques of manipulation today, is professionalism and ethics in photography dead' and 'Photography as a documentation of cultures- how true is it to its representation', portfolio reviews, photo walks, workshops on performance photography and wildlife photography.
Photography competition is also part of the festival open to all to encourage all enthusiasts to take part in the art that requires not only skill and creativity, but a cutting edge discipline and professionalism.
Pre-Festival workshop on the basics of photography for students drawn from 32 schools across the state will also be organized to encourage the young tech savvy generation to inculcate a love and comprehension of the photographic art.
Renowned state, region, national and international photographers who will be taking part in the Shillong International Photo Festival includes Manuel Vason, Prashant Panjiar, Rathika Ramasamy, Sumit Dayal, Ronny Sen, Anand Gogoi, Eleazer Dhar, Pynkmen Mawnai, Lang Kupar War, Rashingam Ngoruh, Jeremy Hauhnar, Adish Baruah, Ahmed Hussein besides others.