Two Day Seminar conducted by NCC Group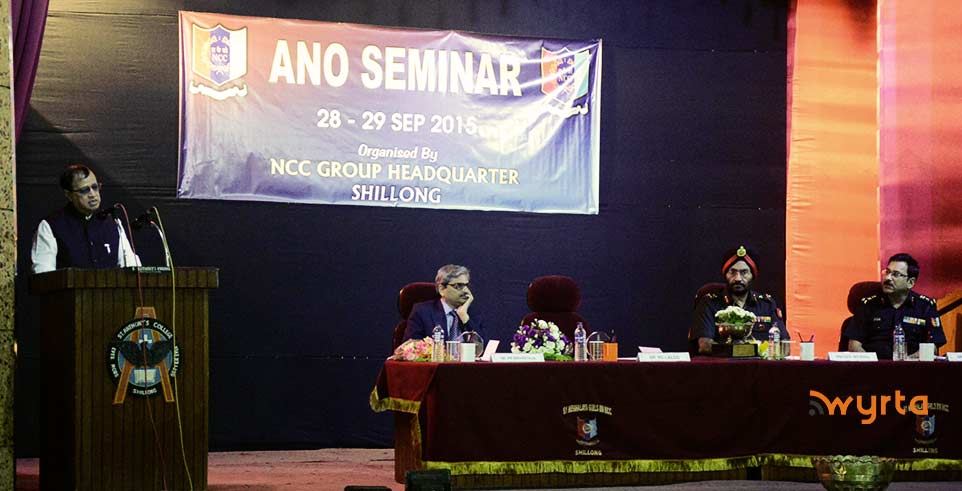 Shillong: A two-day Seminar of Heads of Educational Institutions of the Associate NCC Officers (ANOs)  and Care Takers Officers (CTOs) was conducted by NCC Group Shillong, on 28th and 29th September, 2015 at St Anthony's' College Auditorium, Shillong.
In attendance was the Deputy Chief Minister Dr RC Laloo, Principal Secretary, Education Mr PK Srivastava, ADG NCC Dte NER, Maj Gen SPS Kohli, NCC Group Commander, Shillong, Brig BC Sharma and officers NCC Group Shillong, Heads of Educational Institutions, the ANOs and CTOs of the NCC Group, Shillong and representatives from the 11 Districts of the State.
Advertisement
---
The Seminar, the first of its kind, aimed at tapping the potential of the students in the overall development to enable them to contribute towards Nation Building and joining the Armed Forces.
The Deputy Chief Minister, in his speech, emphasized on the important role of NCC in development of the youth in nation building and said that NCC is a guiding force to inculcate discipline and unity. The Deputy Chief Minister also highlighted the important role played by teachers and ANOs to convert values into ground reality. He therefore urged the heads of institutions to support ANOs and NCC activities. Mr P.K. Srivastava said that the state government is taking action to ensure development of the youth which is important for nation building. He emphasized on the importance of the role of ANOs to motivate the youth and in turn the heads of institutions to facilitate ANOs towards this end. Others who spoke on the occasion were Brig BC Sharma, Commander, NCC Group Shillong, who gave his opening remarks and ADG NCC Dte NER Maj Gen SPS Kohli who spelt out the achievements of cadets of Meghalaya in various NCC activities. (MIPR)