U pteiñ biang i krehkaam ka Section 144 ha West Jaiñtia nadooh ka 5 tarik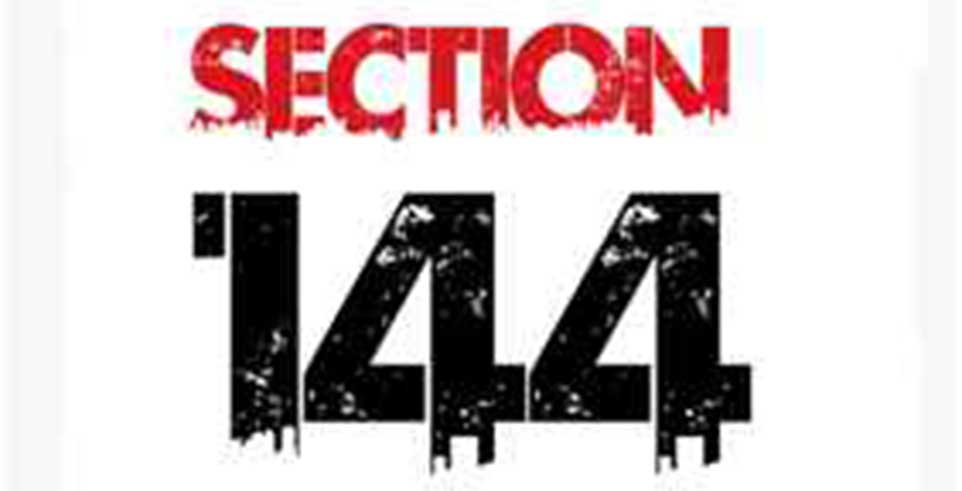 Advertisement
---
Jowai: U District Magistrate, West Jaiñtia Hills District, Jowai da pynmih hukum (Prohibitory Order) u haka 4th September, 2020 hapoh ka Section 144 CrPC hapoh waroh kawi ka District wa kynthup yaka Amlarem (Civil) Sub-Division, Thadlaskein Block wa Laskein Block yow khang yei poor ka khlam COVID-19.
Ka hukum toh kawa krehkaam nadooh ka 5th September, 2020 hadooh wa pynmih hukum da kamwi kawa neh nadooh 5 waje i step hadooh 9 waje i miet man-ka-sngi deiwa khang leh yei lai na kawi ka jylla cha kawi, da khang leh wow pynman ya ki Border Haats wa ki yaw wa em khappood wa kiwi ki jylla.
Ka hukum da ong ko wa lada em kiwon kiwon ki yalang hap wow bood yaka Social Distancing deiwa yajngai 6 phut uwi ya uwi, u deiñ yaki Face Mask kamjooh leh wow bood yaki kyndon wa da e daka sorkar.
Da khang wow pynman ya kawon kawon ka yalang niam, yalang paidbah, u wai yaki thaw mane Blai cha ki paidbah, katwa ya ki lehniam pynkyntang bia ha ki thaw mane Blai u chah du hadien wa yoh bor na u District Magistrate.
Ym pu chah wow wai yaki Cinema Hall, Swimming Pool, Entertainment Park, Theatre, Bars, lane kiwon kiwon ki thaw wow pynman yaki yalang paidbah, ki thaw uiñke suwari, ki yalehke Sport wa hap wow yabi lane kiwa ya tyngkhooh uwi ya uwi.
Ym pu chah leh wow wai yaki thaw puræ puthi, Training Centers, Coaching Class lait noh kiwa leh Online/Distance Learning.
Da khang leh wow mih ki bru kiwa em 65 snem chaneiñ, kiwa chitom, kiwa punkhon waki khynnah wa 10 snem chapoh. Ym chah wow dih kiad, u baam kwai, duma ha ki thaw paidbah kamjooh wow mynthu haki thaw paidbah. Wei ha ki thaw kreh hap wow deiñ yaki Mask.
Ya ki bru wa wan na baar jylla ki wakreh ym pu chah lait noh ya kitu ki Highly Skilled, Specialized Professional wa Technician wa pynbiat daka Political Department.
Lada em wa yap bru, ym toh wow em palat 20 ngut ki bru. Ha ki lehniam bia u chah du 50 ngut ki bru lane chi bhah naka le bhah wa hoi u chong ki bru. Ki khawai bia ym chah wow pynman.
Ki dukan Supply Chain/Wholesale Retailer, Outlet wa kiwi kiwi kiwa da chah u wai, u wai ki Monday hadooh Saturday 9:00 AM hadooh 7:00 PM katwa ki yaw wa pynman chisien chi tayaw u wai ki ki sngi pood kamwa da pynbait deiwa bood yaka Odd wa Even number.
Ki kaam wa yatoh waka rep ka riang, ki karkhana hap ki wow bood yaki kyndon sorkar.
Da chah leh wow wai ki thaw leh Yoga waki Gymnasium deiwa yoh bor na u Deputy Commissioner deiwa bood yaki kyndon (SOP) wa da pynmih daka Ministry of Health & Family Welfare.
Da chah leh wow wai ki Cyber Café deiwa yoh bor na u Deputy Commissioner deiwa bood yaki kyndon wa booh daka chnat Information Technology & Communication Department ka sorkar Meghalaya.
I pynbait yei kamai kari dang neh ki kamjooh hi wei ym em khang yei lai na kawi ka District cha kawi.
Ki kari wa kit ya kiwa yaleh yaka NEET Exam ym hap ki wow bood yaka Odd wa Even deiwa pynyoo ya ki Admit Card ha ki Check Point.
I lai i wan ki kari leh kamjooh ki luti wa hoi u lai daw pynkhreh da ka yung krehkaam u Superintendent of Police ka West Jaiñtia Hill. Ym em khang wow lai na kawi ka District cha kawi.