Wai u Conrad ya ka Tourist Lodge ha Siju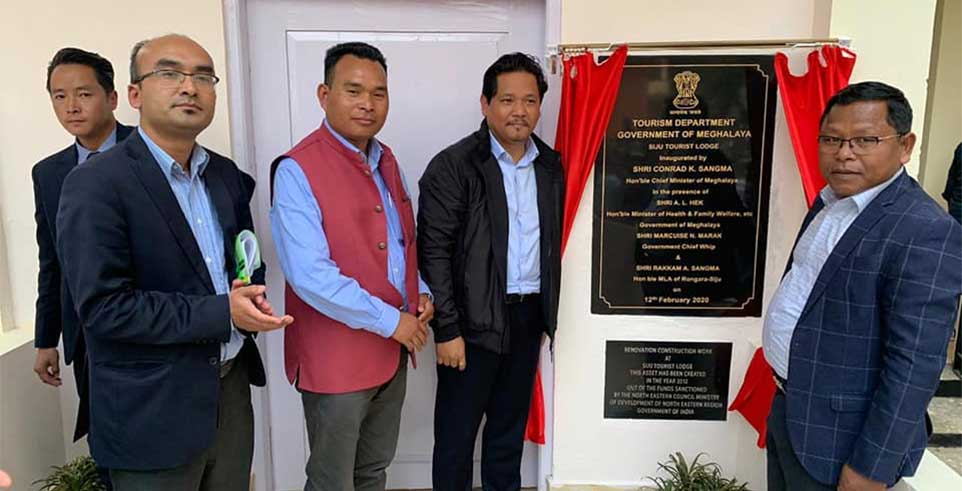 Advertisement
---
U montri rangbah ka jyll, u Conrad K. Sangma da booh mooyurim u ya ki kreh neibynta ki kaam uiñke suwari ha Siju, South Garo Hills ynnin ka 12 tarik.
Kani ka project da antaad u lut T. 9 klur lyngba ka Ministry of Tourism, Government of India hapoh ka Scheme-Swadesh Darshan. 
Advertisement
---
U Conrad da ong u wa ka thong yong ka sorkar toh wow pynku ya ka kaam uiñke suwari hapoh ka jylla wei ka sorkar chaniah ko ya kani ka kaam wow riñ ya ki bru.
Hajrong i miat ka Siju da ong u wa ka sorkar yaleh ko wow pynlai yaaw ya kini ki thaw kawa em leh yaka krem wa pawnaam kawa tip da ki tre chnong kam ka Dobakkol namo ka Bat Cave hei ktien phareng kawa man leh kawi na ki krem wa jrong dooh hapoh ka ri kawa suk ki bru u psiah.  
Neiliang u Conrad da wai u leh ya ka Tourist Lodge ha Siju ya kawa da chna da ka North Eastern Council (NEC), Ministry of DoNER. 
Kani ka yung em ko 13 tylli ki kamra. 
Da ong u leh wa hapoh ka Swadesh Darshan Scheme, ki thaw uiñke daw chna pynmiat ya ki.
Ha kani ka sngi da emlang u Chief Whip Marcuise Marak wa u MLA ka Siju -Rongara u Rakkam A. Sangma wa kiwi kiwi.
Advertisement