Wan yalap sa u symbood montri rangbah ka Manipur ya u Clement G. Momin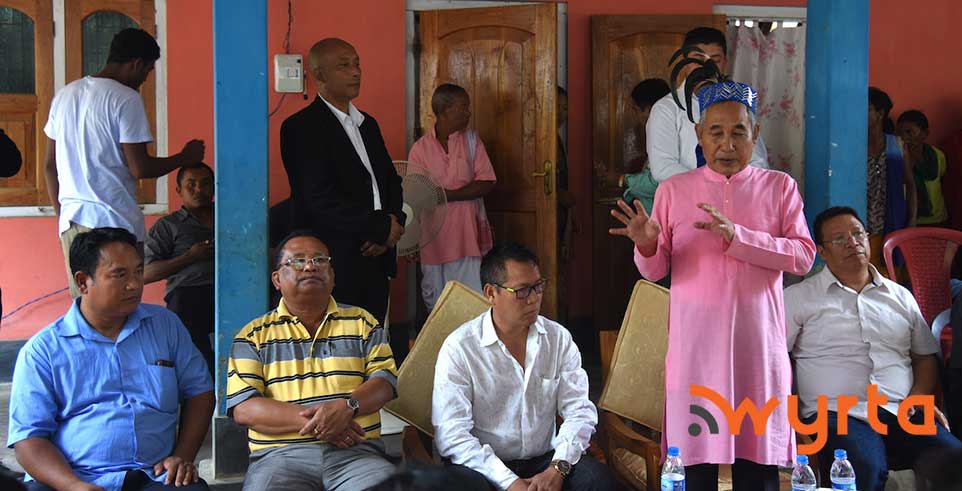 Jowai: U symbood montri rangbah ka jylla Manipur, u Yumnam Joykumar Singh chirup wa u montri ka tnat Sports and Youth Affairs ka jylla Manipur, u Letpao Haokip ynne da lai yalap ki neibynta u kyrtong ka NPP na Ampati u Clement G. Momin.
U Singh wa u Haokip da synraan da u Chief Advisor to Chief Minister of Meghalaya u Thomas Sangma wa u State Working President ka NPP, u S.B. Sangma kiwa da yalap ya kiwa kitkaam wa kiwa kreh yong ka Party wa em ha chnong Latri wa Sonabil wa em hapoh ka Ampati Constituency.
Advertisement
---
"U Mukul Sangma wa ka Congress ym jooh em pait ki yeiwa emkamam ki paidbah namo ya ka mynried ka Ampati Constituency. Ha i naam yong i roi i paar da chna ya ki sarok hapoh ka Constituency katwa i puræ puthi won dang man i iwa duna bha hapoh kani ka Constituency wa ka South West Garo Hills man ko kawa dooh bha," da ong u Yumnam Joykumar Singh.
U Haokip da ong u wa kani ka By-election ha Ampati Constituency man ko kawa kongsang bha ya ka NPP, kawa em 20 ngut ki MLA hapoh ka State Assembly. "Lada ki paidbah ka Ampati e ki ya i wow man i kam kiwa jop ha kani ka kynti daw man i ka party kawa boon MLA dooh hapoh ka Meghalaya. Ka NPP toh ka party wa thymme wei da soohthied ko ha ka jylla wa ka thaiñ mihsngi wei u pteiñ ko wow kreh neibynta ki paidbah wa ya ka mynried".
Da yaroh u leh ya u montri rangbah ka Meghalaya, u Conrad K. Sangma wa man u u montri rangbah wa chemphang wa uwa pliah wow pyndep ya ki kaam yong oo.