Yoh ka jylla Meghalaya ya i naam "The State of the States" ha ka kaam rep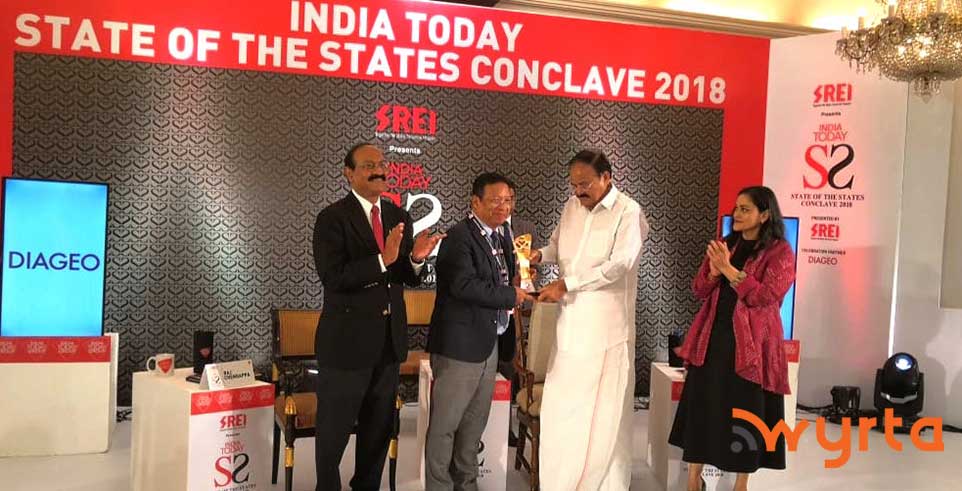 Shillong: U Chief Adviser yong u montri rangbah ka jylla, u Thomas A. Sangma ynne da pdiang u yei naam India Today – "The State of the States" Award neibynta ka sorkar jylla ha Taj Mahal Hotel, New Delhi.
Ya kani ka khusnaam da pynkup da u Vice President ka ri u M Venkaiah Naidu hei emlang ki montri ka sorkar pyrdi, ki montri rangbah wa ki montri ki jylla ka ri.
Ka Meghalaya da yoh ko yei naam Most Improved Small State ha ka kaam rep (Agriculture).
Ka India Today jooh pynbna ko ya ka naam "The State of the States" khlieh u snem hadien wa bichaar ya ki jylla wa wailaad ya ki paidbah yong ki wow kreh hapoh kamjooh cha baar jylla. Yei bichaar da pynchong katkam wa man khlieh u snem, wei iyi wa kylla ha ki san snem wei wow pait leh yei rukom man ka khayi pateiñ wa i rukom im ki bru hapoh jylla.
U Thomas A. Sangma da pdiang u ya kani ka burom neibynta u montri rangbah ka jylla, u Conrad K. Sangma deiwa ong, "Man ko ka sngi wow sah kynmoo ya ki bru ka Meghalaya kiwa im ha i kaam rep wei ka chnat sorkar wa pait ya kani ka kaam (Department of Agriculture) da kreh ko khlem chong-ngiah wow pynjanai ya kani ka kaam hapoh jylla."
Neiliang u Conrad K. Sangma da e khublei u ya ka India Today kawa da chim ka lyngkor wow pynman ya kani ka bichaar ya ki jylla ka ri ha ki liang wa boon wow pynchlur leh ya kiwi wow chimkhia ki ha jar jiar ki bynta i kaam pynroi.