Da pynman ya ki lehkmen Republic Day ha Jowai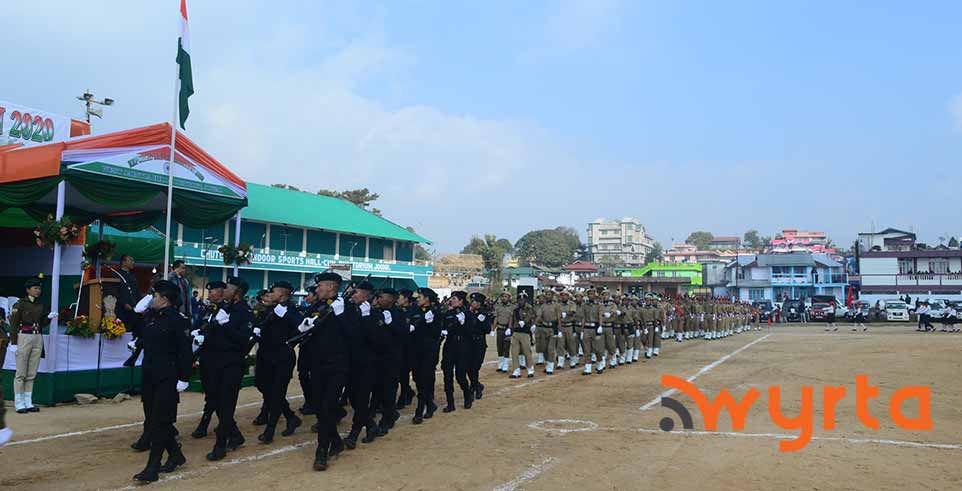 Jowai: Ya ka lehkmen Republic Day ynne da pynman ya ka ha madan Jrisaleiñ, Jowai heiwa u montri ka Transport, C&RD u Sniawbhalang Dhar da wan pynhær u ya ka lama ka ri wei da chim u leh ya ka Rastriya Salute.
U Dhar hawa e i klam da khana u ya ki kaam ka sorkar wa ki Scheme wa da pynkreh ha kylleiñ ka jylla deiwa kyntu ya ki paidbah wow kreh ki neibynta ka jylla.
Advertisement
---
Ha ka Parade wa da wan chimbynta da ki 18 dhab (Contingent) wa kynthup ya ka DEF (District Executive Force), Special Force 10, District Home Guard, NCC SD na Thomas Jones Synod College, NCC SW na Thomas Jones Synod College wa ki 13 tylli ki skur.
Ya i naam jop ha ka Parade da jop da ka JNV Higher Secondary School, Mukhla, bood won sa ka Q.C. Springside English Secondary School, Jowai.
Da pynyoo rong leh ya ki Tableau yong ki chnat waphær waphær hapoh ka District kiwa klam ya ki Scheme wa ki kaam kini ki chnat heiwa da em hadooh 14 tylli ki Tableau. Ya i naam Best Tableau da yoh ka District Horticulture Officer wa District Agriculture Officer kiwa da pynwandur ya ka kari hajrong ka phang, 'Integrated Farming System for Maximum Crop Production and Income Generation' wei ya i naam wa ar da yoh ka District Soil & Water Conservation Officer (Territorial) Division, Jowai kawa khana hajrong ka 'Springshed Development Work.'
Ka Nartiang Primary Health Centre da yoh ko yei naam Best Winning Primary Health Centre katkam ki kyndon ka Kayakalp Guidelines ka Ministry of Health & Family Welfare, ka sorkar pyrdi yong u snem 2019-2020 kawa kreh yei khooid i jngiar wa u yada na ki kjut katwa ka Shangpung Primary Health Centre da yoh ko ya ka Commendation Award yong u snem 2019-2020.
Ya kani ka sngi da pynphooh da ki rwai ki chaad wa i lai saam baam ki chnat wa ki seiñbhalang ya kiwa thiah kjut ha Dr. Norman Tunnel Hospital, Jowai Civil Hospital wa ki koidi ha District Jail.