Advertisement
---
Advertisement
---
---
Advertisement
---
Advertisement
Ebor noh ka Ladthadlaboh ya ka Salaroh wow khlaad noh ko kam ka Dorbar Chnong wa pura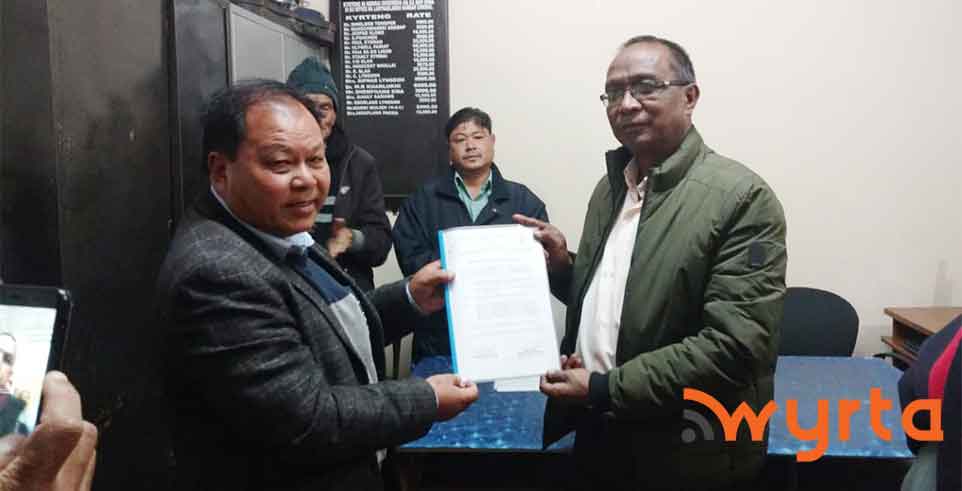 Jowai: Ka Dorbar Chnong Ladthadlaboh, Jowai ynne ka sngi da ebor namo da e NOC noh ko ya ka kyntoit dong Salaroh wow synchaar pura noh ko pyn daka yaka hi.
Ya kani ka NOC ka Dorbar Chnong Ladthadlaboh da ekti ko ha ka yalang wa tbian ha yung krehkaam ka Ladthadlaboh kawa da pynlai da u Chairman Chnong, u JM Paswet hei emlang u Waheh Chnong Ladthadlaboh Dorbar Chnong, u LD Lakiang, u General Secretary, u Aibanmanbhalang Shullai wa kiwi kiwi ki dkhot ka chnong.
Neiliang ka Salaroh da emlang nadooh u Riwot Niangti uwa man kam u Rangbah Dong warim ka Salaroh wa ki dkhot ka Dong Salaroh.
Ha kani ka yalang da kdaw leh ya u pood u ang ka wa pura ka Salaroh.
Ka Ladthadlaboh Dorbar Chnong mar pynman aiñ ya ka "The Jaiñtia Hills Autonomous District (Establishment of Elaka and Village, Election, Appointment, Powers, Functions and Jurisdiction of Dolloi, Sirdar and Waheh Shnong) Act, 2015" da chimkhia bha ko wow pynbait ya u pood u ang yong ki kyntoit dong waphær waphær kiwa haap hapoh u pood u ang yong ka nadooh u 2016.
Kam wow pynkynmoo heini, ka Ladthadlaboh da dep e NOC ko ya ka Moosalyngkat, Tyndowapung, Caroline Colony, Lumpariat, Mookyrdup wei ha kani ka kynti won ya ka Salaroh.