Jop ka Lasmiker Dkhar yaka Miss Khliehriat wa u Wanbiang Myrmen Pohing kam u Prince Khliehriat 2019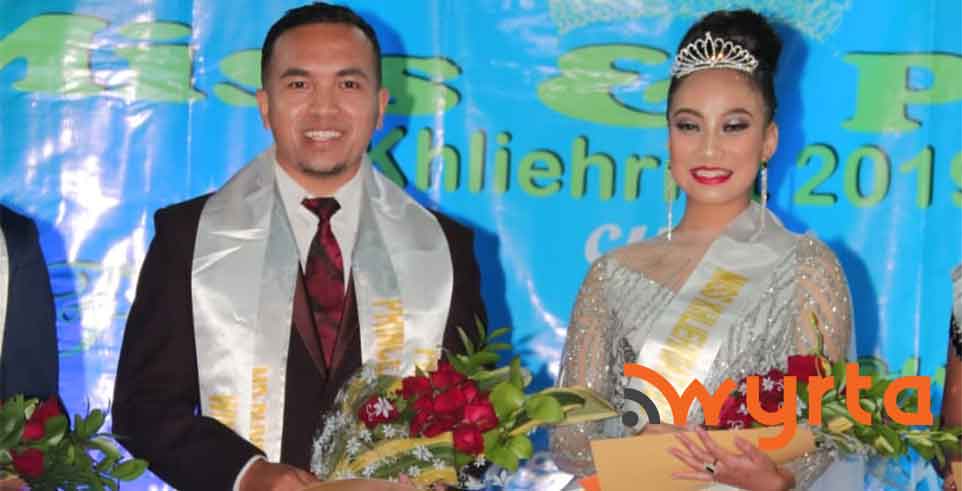 Advertisement
---
Jowai: Ka yakob miat kynthai bha chynrang kawa tip kam ka Miss Khliehriat & Prince Khliehriat 2019 kawa pynman daka Khliehriat West Youth Welfare Sports Club Women's & Girls Wing da pynman yaka ynnin ka 9 tarik ha Khliehriat West Football Playground.
Ya kani ka yakob da wan sakhi da u Kyrmen Shylla u montri ka sorkar jylla kam u kongsan wei da bichaar ya kani ka yakob da ka Wanri Pyngrope (Actress & Miss India Northeast 2015), u Deibormi Lyngdoh (Prince Shillong 2019) wa u Teibor Kyndiah, District Child Protection Officer, East Jaiñtia Hills.
Advertisement
---
Advertisement
---
Advertisement
---
Ya kani ka yakob da pynman ha ki le tylli ki kylla heiwa da em kylla wa riam da i riam tynre namo ka Traditional Wear, i riam Casual (Street Style) wa i riam Formal.
Hadien wa kut kini ki le tylli ki kylla, kiwa bichaar da jied ki yaka Lasmiker Dkhar (21 snem) kawa na Moolamanoh kawa puræ B.Sc. 3rd Semester ha St. Anthony's College, Shillong kam ka Miss Khliehriat 2019, wa ar da yoh ka Batskem Tlang kawa na Dkhiah East wa le da yoh ka Avity Sana kawa na Mukhaialong.
Na ki chynrang won da jied ya u Wanbiang Myrmen Pohing (22 snem) kam u Khliehriat Prince 2019 uwa na Ratacherra uwa puræ 3rd Year Bachelor of Ayurvedic Medicine and Surgery, wa ar da yoh u Pascal Lyngdoh uwa na Dkhiah East wa le da yoh u Emitre Myrphet uwa na Jowai.
Kiwa jop da yoh ki yaka song poisa T. 10,000, wa ar da yoh T. 5000 wa le won da yoh ki T. 5000.
Kani ka yakob da man ko leh kam chibynta ka Fete yong ka Club kawa pynman chi sien chi snem.