Pynman District Level Seminar ka Thomas Jones College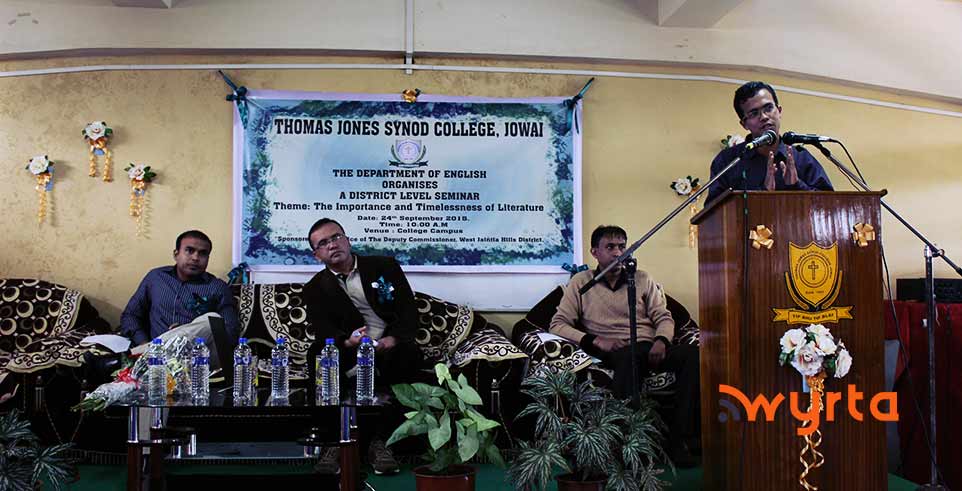 Jowai: Ha chwa u sdang ia kani ka siminer da em ka ialang wa tbian hei pynlai u ma Herman K.Nongpluh head department iong ka English, hei ia emlang u Deputy Commissioner ka West jaintia u Arunkumar Kembhavi uwa da chah khud sngawbha  kam u kongsan.
Da ioh ia i klam pdiang warom naka Assistant professor kong V. Bamon pynbood sei klam na u principal ka Thomas Jones College u Dr.R.R.Kharkongor.
Advertisement
---
Ha kani ka sngi da ioh leh i klam na uwi u khynnah Hounors English uwa da pass bha haka final year exam iong uni u snem u tæ toh u Augustine Rongngi. Da pyllait paidbah ki leh iaka newsletter iong ka English Department wada e pyrtuid " Roots and Wings" da u principal  ka College u Dr.R. R. Kharkongor.
U kongsan ha i klam iong Oo da kyntu u iaki khynnah skur u pynmllien ki u bang u puræ iaki kot wa boonjait neibhah kani iarap ko u pynroi pynpliah iaka thoh ka tar kamjooh leh iarap ko u pyniar ia i pyrkhat pyrdain ki.
Ha kani ka iathit pyniar haka kylla step da ioh yei batai ha ki mat wapher wapher naki nongsikai English hei pynlai u Herman K. Nongpluh head department English ka Thomas Jones College. Iaka topic Creation Connection: Exploiring Children's Rhymes in the Khasi Society from the Semiotic Perspective da batai da ka S.W.Sohlang,  Assistant Professor Kiang Nangbah Government College. Ka Collin Bapui, Assistant Professor Thomas Jones College da batai ko hei iatoh waka poetry A Reflection of Beauty and Truth, ka Pynhunmiki Susngi Assistant Proffesor Thomas Jones college iaka poetry The Voice of the Voiceless.
Ha ka kylla miet won iaka ialang da pylai da ka kong V. Bamon Assistance Professor Thomas Jones College, Ka kong S. M. F. Blah,  Associate Professor Kiang Nangbah da batai ko hajrong ka topic Litereture through time: The 'Millionaire Twist' connect. Ka Affinda G.Lapasam Assistance Professor Jaintia Eastern College khliehriat da batai ko hajrong ka topic "The Germs in Shakespeare's Sonnets: A Complex Work of Art, Engaging the Human Intelligence and Emotions katwa u Herman H Nongpluh won da klam u hajrong ka topic The Tears and Laughter in the Fiction World related by Charles Dickens: A special reference to ' Hard Times' and 'David Copperfield'.