Rah ka O M Roy yaka Inter School Futsal Competition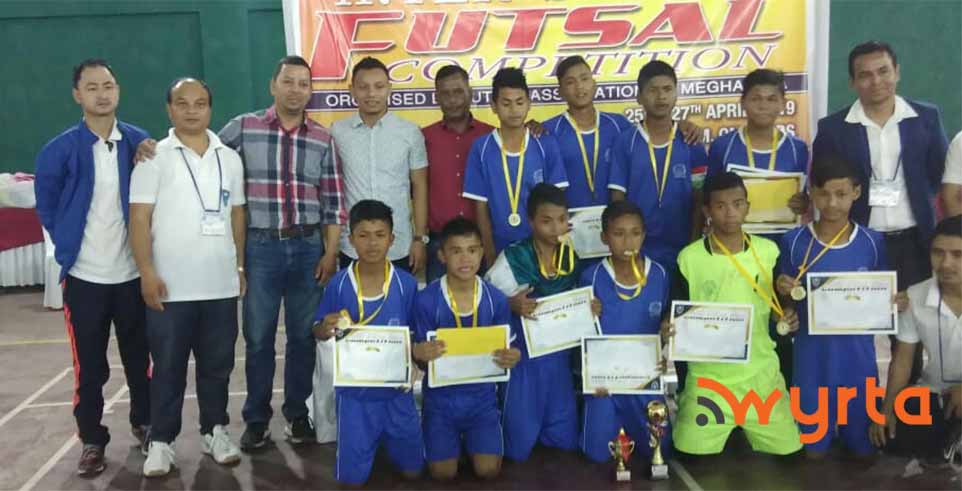 Jowai: Ka O M Roy da yoh rah ko ya i naam jop haka Inter School Futsal Competition wada pynman daka Futsal Association of Meghalaya ha Laban Indoor Stadium deiwa pynrem ko yaka H Elias School da 4-3 haka yakhun Final ynnin ka sngi.
Kani toh ka sien wa nyngkong wa ka Futsal Association of Meghalaya da ye ko u pynman ya kani ka jait lympung ya ki khynnah skur kawa da wan chimbynta da 11 tylli ki skur wa em hapoh ka jylla.
Neiliang u President Ka FAM u Dr. B. Langbang da ong u wa i thmu wow pynman ya kani ka lympung toh yu pynku yaka sap yong ki khynnah haka liang ka Futsal, wei da kyrmen u wa mynstep mynkawi daw yoh u phah yaki skur na kani ka jylla wow mihkhmat yaka jylla cha ki Inter School Competition hapoh ka ri.
Ya ka sngi khaddooh da wan pynhaap pyrda da u DSO ka East Khasi Hills u D Dan hei emlang u Redeem Tlang uwa yalehke ka North East United kam u symbood kongsan wa kiwa kitkaam ka Futsal Association of Meghalaya.