Wan booddien u Hamlet Dohling ya i pynkreh ya ki scheme sorkar pyrdi hapoh WJH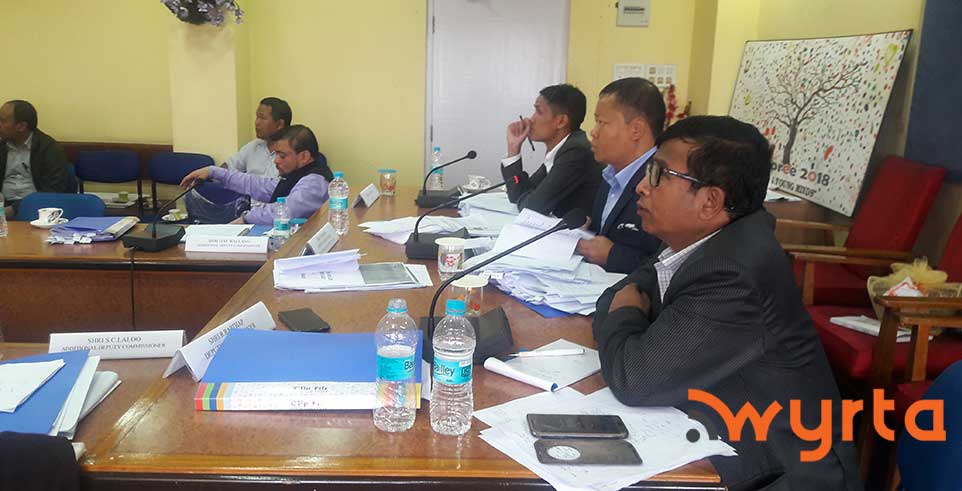 Jowai: U montri ka Urban Affairs u Hamlet Dohling ynne ka sngi da pynnman u ya ka yalang wa ki tnat krehkaam ka sorkar hapoh ka West Jaiñtia Hills ha Confernce Room, u Deputy Commissioner ha Jowai wow sñiawthooh hadooh katwon wa da lai chakhmat i pynkrehkaam ya ki Scheme ka sorkar pyrdi wa ha khmat dooh kam ka Mahatma Gandhi National Rural Employment Guarntee Scheme, Indra Awas Yojana/Prime Minister Awas Yojana , National Social Assistant Programme , Annapurna Sceme, Sarva Shiksha Abhiyan, Mid Day Meal, Intergrated Child Develipment Scheme, National Health Mission, National Rural drinking water, Total Sanitation Campaign/ Swacch Bharat Mission, Pradhan Mantri Gram Sadak Yojana, Accelerated Irrigation Benefit Programme/ Pradhan Mantri Krishi Sinchai Yojana waka Rastriya Krishi Vikas Yojan.
U MLA ka Jowai uwa man leh u Chairman of State Resource Mobilization Commission u W. Shylla , u R. Rapthap, IAS, Deputy Commissioner, Jowai, u D.M. Wallang, MCS, Additional Deputy Commissioner uwa man leh kamjooh u Project Director, District Rural Development Agency, Jowai, u S.C. Laloo, MCS, Additional Deputy Commissioner wa man leh u District Planning Officer, West Jaiñtia Hills District, Jowai da emlang ki.
U montri ka Urban Affairs Minister hei klam yong oo da ong u wa kani ka yalang toh wow chong phyllu yumut ya ki laad ki luti wow wanrah yei sñiawjan ya ka sorkar wa ki paidbah yow pynyoo leh yei khooid hei rukom pynkrehkaam ya ki Scheme sorkar wei ymtoh wow wan thooh daw.
Da ong u leh wa kani ka yalang da man ko kam ka rynsaan ya waroh kiwa emkti wow pynkrehkaam wow tip kammon wow yaleh wow pyndooh ya ki moochynthut wow pynkrehkaam ya ki Scheme yow yohmyntoi ki padibah.
U W. Shylla, Chairman of State Resource Mobilization Commission da e buit u cha waroh ki tnat sorkar hawa pynkrehkaam ki ya ki Check Dam, ki yulam pynpoi um cha ki thaw rep wa kiwi toh u man ki kiwa salonsar wei ymtoh u yoh du ha ki jooh bait ki thaw wei toh u poi ki cha waroh ka District.
Neiliang ki tnat sorkar waphær waphær da pynyoo ki da ki dur ki dar ya ki kaam wa da pynkreh ki wa katwon da lai ki chakhmat ki kamjooh i eh i khoo wa yachem ki.
Neiliang u Hamlet da ong u wa daw lai hiar cha kini ki thaw wa pynkrehkaam ya ki Scheme sorkar mynstep ka 6 tarik.