Chah kem uwi wa pynpoor yaki khubor thok pyrchah ya ki pulit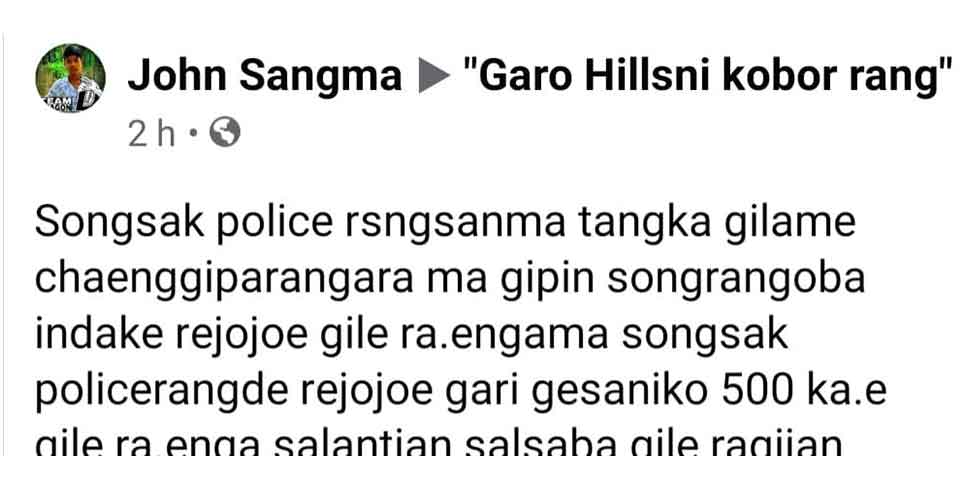 U SP ka East Garo Hills District da pyntip u wa da kem ya uwi uwa pynpoor ya ki khubor thok chaphang ki pulit heipor wa dang leh ki yei kamram yong ki.
Da pyntip u wa haka 30 tarik u Naikhynde, ki pulit ka District naka Songsak Police Station da pynman ki yei pynsangeh kari ha Songsak Highway kamjooh haka yaw katkam ki kyndon wa da pynmih ka sorkar Meghalaya waka Ministry of Health and Family Welfare heiyatoh wa i lai kari kamjooh wow pyntikna wa da bood yaki kyndon wa da pynmih leh da ki bor District.
Advertisement
---
Tangwa da em u bru wa em yaka Facebook Account wa thok (Fake Account) kawa em yei pyrtuid u John Sangma uwa da booh ya ki Video ki Songsak Police heipor wa da leh ki yei kaam yong ki deiwa pynbaad wei khana bakla chaphang iwa leh ki pulit ha kawi ka Facebook Page.
Ya uni u bru uwa da tip pyrtuid kam u Hawil Sangma da li rah ya oo na i yung u ha Jamge A hajrong wa pynemkaam yei pyrtuid yong uwi won u bru (Impersonation & Fake account) wei wow pynpoor yaki khubor thok pyrchah yaki pulit wei da kem leh yaka Mobile Phone u heiwa da pynngat leh ya oo hapoh ka aiñ IT Act.
Ka takit dang lai ko chakhmat.